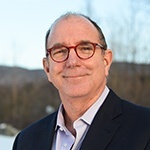 Duane Peterson is no ordinary solar outfit.
The former Ben and Jerry's "Chief of Stuff" has an eclectic professional past that has culminated (for now) in clean energy. We sat down to talk about inspiration, what he wishes utilities and state energy agencies knew, branding, Thomas Edison, and yes, ice cream.
For those that don't know, SunCommon, a certified B Corp, is a solar company located in Waterbury Vermont, and recently expanded into the New York State market. You can read more about SunCommon's culture, accolades, and approach
here
.
@ashKSV: Duane, thank you so much for taking the time to talk with us. Let's start with inspiration. Where did the inspiration for SunCommon come from?
@DuanePeterson: Well, my friend and co-founder, James Moore, and I had a conversation and we said, "Why is it that the adoption of clean energy is pathetically slow?" And then we imagined a better way. SunCommon exists to help people join the clean energy revolution; it's a market solution to climate change.
When he first began, Peterson admits, he knew nothing about solar. But he was an expert communicator, a great storyteller (he still is), and he saw a problem.