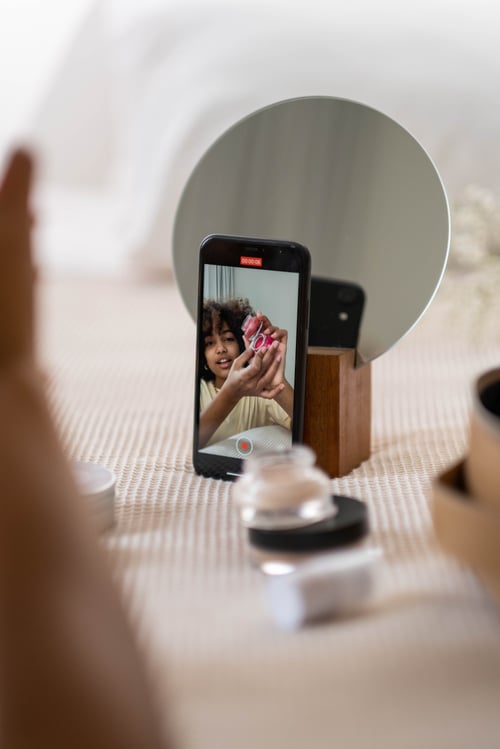 As TikTok, Instagram, and other social media platforms grow and evolve, brands have new ways to engage with consumers.
Yes, the "Instagram/TikTok made me buy it!" trend is real, and it's certainly not just about ads, which many users have gotten great at ignoring. These days, it's influencer nudging that often pushes customers to buy. Thanks to the widespread use of these platforms and massive followings, influencers are driving sales. Recent studies show social media users (that is, most people) trust influencer promotions more than celebrity ones. And nearly 50% of social media users say they've bought a product after seeing an influencer advertise it.
Influencer purchasing power extends into Tiktok and other platforms just as much. In fact, Insider Intelligence analysts expect TikTok to surpass Instagram in terms of influencer marketing spending this year.
Creator marketing can be exciting, captivating, and authentic. It's also a can of worms when it comes to brands controlling their own messaging. According to a recent Brandwatch report, brands, on average, account for only 3% of the brand-related conversation on Twitter. As user-generated content continues to increase, brands are struggling to own the narrative around themselves, making it more important than ever to capitalize on sharing content, engaging with its audience, and partnering with influencers and ambassadors to leverage some share of consumer voice.
But TikTok and Instagram users are increasingly savvy about marketing and influencer campaigns. With the rise of #deinfluencing, purpose-driven brands need to tread carefully. Incorporating the voices of unique individuals (whether they be influencers or, say, a scientist) raises a new and challenging question: how to capture authentic, people-first stories, while still maintaining a sense of brand voice?
Taking a Risk for Authenticity Pays Off — with Chicken Swaddling
It's obvious why brands are responding with more influencer collabs. Doing so offers the opportunity to show how products, services, and solutions can be easily integrated into a person's actual everyday life. It can also build trust and popularity in a brand.
It's clear that brands need to get creative to reach new audiences. But how?
One example involves TikTok influencer Jen Hamilton, who gained much of her 2.6 million followers thanks to chicken swaddling videos. When Hamilton released a video titled "spilling the tea about @perduefarms" in early 2022, users were likely expecting this chicken-lover to trash the nuggets brand. Instead, she offered surprising news: She had been invited by Perdue to take part in their "super-insider meeting, unironically and un-accidentally." Perdue flew Hamilton — always on the lookout for something interesting to tell her fans about — to their annual animal care summit in Maryland.
"And I don't work for them, and they did not pay me," says Hamilton. "So I'm going to tell you exactly what happened. Because it was not what I expected."
What happened was Hamilton was floored. "Every year they get together and talk about ways they can… better take care of their chickens? And make them… happier?" Hamilton explains, quizzically.
She goes on to highlight the brand's efforts to keep their chickens healthier with outdoor and feeding programs, and the inclusion of animal welfare groups and "home-town chicken farmers" in the event. The effort resonated with Hamilton's audience, too: top comments include "My brother works for Perdue. They are a fantastic company," and "less stress makes for better food and cleaner conscience… GOOD BUSINESS!"
By giving someone surprising the mic, and letting go of some control in the process, Perdue reached a new audience with a positive animal welfare message. That's a tasty, and creative, win.
Authentic Fun, Under Control: A Match Made In Heaven
Who could be more authentic than Corn Kid? The amateur corn enthusiast, who lit up the internet when he was filmed chomping on corn, and declaring his love with funny comments like "I can't imagine a more beautiful thing," was recently snagged by Green Giant for a Thanksgiving ad campaign. Multiple in-house videos and recipes straight from Tariq's mouth made great use of his authentic love for the product.
Authentic, wholesome, and simple is one thing. Edgy humor is another. Still, as Kohl's recently proved when it capitalized on the TikTok notoriety of the "Kohl's Cash" meme, it can be pulled off. The meme itself felt entirely out of bounds for a brand: the joke was simply a fake Kohl's commercial with lewd language and a call to action to "shake that ass for some Kohl's cash!"
Rather than sweeping it under the rug or actively fighting the meme, Kohl's kept their cool. They understood that the program, which gives $10 of in-store "Cash" for every $50 spent, is quite popular, despite the intensity of the joke. They waited out the massive trend with restraint and not a word. Then, toward the end of the trend, they released a TikTok of their own, using the same "Kohl's Cash" voice: "Yes, we see you. We hear you. But don't worry, there are plenty of other ways to earn that Kohl's cash. You don't have to shake that."
"I'm giving Kohl's credit for how they handled it," said James Nord, the CEO of advertising/influencer marketing agency Fohr, on his Youtube show "Negronis With Nord."
"Usually, when people are making fun of them, brands don't think it's funny… I've seen a lot of brands [react] and it's either cringey or overproduced or just not safe for work and weird and uncomfortable. They just put a little cherry on top to acknowledge that they've seen it, and to be a part of the conversation. It was perfect."
By recognizing that the joke wasn't about them, Kohl's was able to join the conversation, build brand admiration, and not lose control over their own image — the perfect recipe for viral social media marketing.
Human Stories for Purpose-Driven Brands
The best authentic and human brand stories come from a carefully shepherded structure. When a brand knows its tone of voice and puts in the right research, it can align itself with talented creators and personalities who share its values. Think of these extra alignment efforts as guardrails — the result of which is some extra freedom for authenticity and creativity.
Proper brand-provided guardrails allow the voice of the individual to do the work. Especially for purpose-driven brands, authentic content can help shift public perception on both issues and products. Take for instance Patagonia's many documentary films, including SXSW winner DamNation, a film about artificial dams blocking salmon habitat on the Klamath river that has since been removed due to public and governmental response. Another recent film, The Scale of Hope, follows former White House climate advisor Molly Kawata as she prepares for an expedition in the Alaska Range. The film centers on Kawata's favorite question, and one that Patagonia is smart to associate with: What can I do to help?
To create the films, which are featured on Patagonia's website and often highlighted on the company's social media as "Patagonia Stories," the brand worked with talented filmmakers who capture authentic human voices in the sustainability space.
"Working with brands to create powerful narratives through film can be tricky," said Josh "Bones" Murphy, the director of Scale of Hope and several other Patagonia-sponsored documentaries. "The collaborators on the brand side have content schedules, deliverables, and internal performance reviews that filmmakers are not always aware of. Finding and refining stories does not always take a linear path from idea to success," Murphy said.
"Many brands will default to the commercial side in a pinch, but that is exactly what viewers don't want if they are falling into the authentic story world of the character. Patagonia actually asked us to paint out logos of people who showed up wearing their own gear. Finding the balance of brand sponsored film requires significant commitment to open communications and the ability of the brand to let go a bit and allow the filmmakers to do their job of telling stories."
The best stories, good marketers know, are the most human ones. When both a brand and a creator is clear about expectations up front, human stories are allowed to shine. Those are the moments that can come to define the success of a campaign, product, or service.
The takeaway lessons? Sometimes, taking risks with outside-the-box collaborations can pay off. Sometimes, being in on the joke works. And almost always, doing a bit of research to team up with the right creators and personalities creates authentic stories that resonate with consumers.