For the next installment in our Industry Expert Interview Series, we had the opportunity to sit down with Paul Lynch, the CEO and Founder of Cage Free Productions, a B Corp-certified and 1% For the Planet designated storytelling agency, specializing in video production based out of Santa Barbara, California. Through the unique concept of Human-Centered Production™, the company helps mission-driven individuals and organizations hone in on the power of video and storytelling to catalyze change and solve problems.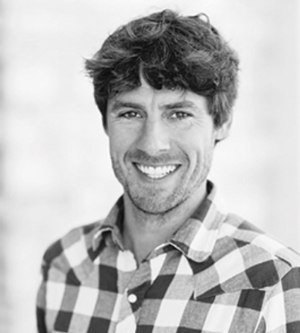 Check out our conversation with Paul below:
KSV: Tell us a little bit about your background and how Cage Free Productions started.
Paul: In many ways, I was a disaster tourist for a number of years working at the intersection of academia, activism, and art. As a writer, photographer, and filmmaker I was exploring the intersection between the people that wanted to make the world a better place and the communities they were affecting or, oftentimes, disaffecting with their work. Naturally, that led me to locations around the globe where those relationships were in hypertension – war zones, disaster zones, post-conflict, etc.
After a few dozen countries, short films, research initiatives, and lecture series it became abundantly clear that the organizations that knew how to tell their story well were getting the investment and/or donations and the ones that didn't know, weren't – regardless of the efficacy of the work. Often times those that sucked at telling their story were doing the best work. That revelation planted the seed for what would become Cage Free Productions. What if we could equip them with the tools to tell their story better? Initially it was just video, but then evolved into a full-blown storytelling agency because they needed messaging, content strategy, leadership cultivation, organizational culture, in order to know what story to even tell. We believe story is a great tool to address all of these so we developed Human-Centered Production™ to use story as a tool to build authentic relationships, solve problems, and still make dope videos and content at the same time.
KSV: Great. And can you tell us a little more about the 1% For the Planet designation?
Paul: When we went through the B Corp certification process the 1% For the Planet designation sort of codified what we were already doing. A lot of the nonprofits we were giving back to prior to getting B Corp certified and adding the 1% designation were already a part of 1% For the Planet. So, we signed up for the designation and then fast forward to 2020, now we're on the local steering committee and we actually just finished some work for the organization earlier this year.
KSV: How do both the B Corp certification and the 1% For the Planet designation help you in terms of identifying new or potential business?
Paul: We are part of a growing community of B1's, which is pretty cool! One thing I love about B Corps is that it's a pre-vetted community. This is extremely important for us because we are guided by our core pillars: social justice, human rights, and sustainability. We only work with organizations upholding those fundamentals and we know the B Corp community has met a certain threshold of doing good for people and planet. Out in the world there are a lot of companies that engage in green-washing or impact-washing. I love to do research, but it's hard to keep up and this is an easy way we can know these individuals or brands have met a certain standard by which they do business.
It becomes a community you know has done some really good work and are continuously trying to do so. Same with 1% For the Planet, there's just so much mission alignment.
KSV: Do you find that, as a business, you do a lot of traditional marketing? And if you are doing traditional marketing, do you find that the B Corp or any of your other designations are core differentiators for you?
Paul: First off, people's B.S. barometer is more sensitive these days. So, I do think there is a great need for third-party verification to say, "yes they are doing what they say, and they're not green-washing it or impact-washing it." While people outside of the B Corp Community might not necessarily care that you're a B Corp, it is extremely valuable. I like to refer to it as a stamp of approval for us to differentiate from the doppelgangers. Let me explain, every organization operating in the social impact space has a doppelganger out there, another organization doing something similar to you but nefariously. And the story we tell about the impact and approach is the only thing that differentiates us from that doppelganger.
Oh, and to answer the first part of the question, we traditionally haven't done too much traditional marketing other than creating a lot of videos. Most of our expansion has been an organic mix of hustle and referral, like if one organization sees another's video and says, "who did your video?"
KSV: How do you think that the COVID pandemic will shift the way that we operate on a day-to-day basis? Of course, that is a big, broad question, but tell us what comes to mind immediately when you think of that?
Paul: I feel that in many ways COVID revealed a lot of what was already festering under the surface. I think people were already starting to question the constructs under which we live. Everyone talks about disruption as being essential to innovation and COVID has obviously been more disruptive than anything we've ever experienced in modern society. What that disruption does is it allows us to question some of these bigger issues and hopefully adapt.
I think the landscape and the atmosphere was conducive for these social movements to grow and COVID became the accelerant. I think in many ways you can't completely put the genie back in the bottle with this one. I think all these issues were already there and are now coming into greater focus, it just gave people the time to reflect a little bit on it, and then say enough is enough. The challenge now is how to actualize it in the long term. Whether that is evolving a conversation into an actionable movement like the evolution of the DEI (Diversity, Equity, and Inclusion) B-Corp conversation into the Dismantle Collective or moving the conversation from Black Lives Matter to dismantling white supremacy, from ally to accomplice. Whatever it is, I think on an individual level, people are really questioning their role in it, as well as its relationship to their work.
There is a certain amount of privilege in being able to choose purposeful work, especially during these times. I think it's something we need to address within the purpose-driven workspace. At the same time, I think we need to be careful not to be arrogant on purpose – double entendre intended. And I personally hope that it doesn't go back to a rush to just make everything "normal" again.
KSV: Storytelling is a big component of the work that Cage Free does. What is the role of storytelling in solving big problems?
Paul: Storytelling is a buzz term that gets thrown around a lot, something everyone knows they need, but many don't always know what it is. Every social movement is driven by narrative and every individual is a compilation of stories. How those stories are framed help define our identity. Some of that framing is inherited, some is liberating, and some of it is oppressive. It depends on whole number of factors and ownership of story is critical. In many ways in its most rudimentary form, storytelling is just a manipulation in the order in which we send and receive information.
When you play with the narrative structure, the inspiration to information ratios, or the tools of sonic resonance, and ASMR your doing so to connect the heart and the mind. Some people are cerebral, the only way to touch their heart is through a mental exercise. Other people are heart first, you must get emotive in order to engage their brain. Ultimately, you're trying to accelerate trust and build a relationship that fosters engagement.
In that engagement, we're trying to accomplish one of four things: Educate, Advocate, Inspire Behavioral Change, or Entertain. In the social impact space there is more focus on the first three and a deficit in the entertainment factor. We try to bring more of the entertainment through authentic inspiration. In the end, it was the stories in which we learned about the ills of our society (throughout history) that are pushing us to do something about it. So those stories will be essential for us to move from the horizon of desire, of wanting to create change, to the horizon of feasibility, to making it possible.
I think it's essential to ask: Who owns your story?
--
Thank you so much for taking the time to chat with us, Paul! You can learn more about Cage Free Productions and see some of the incredible work Paul and his team have done here.