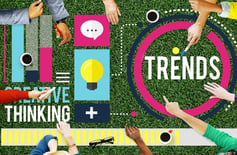 Back in January, we discussed the Four Customer Demands to Watch in 2016. And now, six months later, we're checking in. How are you doing? How do your brands and your programs stack up against these customer demands?
#1: TAKE A STAND. SHARE A POINT OF VIEW.
People are surrounded by an endless sea of content. If you want your message and brand to rise to the top, chances are you will need to take a stand. You will have to be relevant, both where the consumer is paying attention and on topics that actually matter to them.
According to Trendwatching, 73% of Millennials believe businesses should share a point of view about issues. (Want more on Millennials? Check out Two Things to Know about Millennials + Energy Efficiency)
For utilities, this is easy: clean energy updates, energy efficiency, reducing emissions.
Whether you know it or not, you have already taken a stand. Whether it was forced, mandated or an outcome of your culture, it really doesn't matter. If you offer energy efficiency programs or products, this is already proof that you're taking action, and if customers join you, they can make an impact too.
Why isn't this side of energy efficiency the brand of every utility?
#2: SIMPLIFY THEIR EXPERIENCE WITH YOU.
Let's pretend that you've now gotten my interest in a home audit. I click to sign up. And all of the sudden… there's a form. And a process. And all I want to do is get the audit scheduled. Chances are you've lost me.
More than ever, customers are demanding ease and speed when it comes to taking action. Whatever it is you need them to do, the experience better be simple.
Let's use Domino's as an example. In 2015, they launched the "Pizza AnyWare" app, a service allowing customers to order a pizza by simply texting the pizza emoji to Domino's or tweeting @Dominos #easyorder.
Now, it's totally fair to be thinking… What is wrong with society that we can no longer make a call or order online? Apparently, people are in such an emergent need for a pepperoni pizza that all they can muster is an emoji? (Okay, feel better?)
Unfortunately, it's real. And it's a trend you need to be following. Knowing customers are ordering their Friday pizza with an emoji… how do you think they feel about your bill pay process? Or the rebate submittal process? Or searching through program details?
Is the future of reporting an outage going to be through the lightning bolt emoji? Maybe.
#3: "HELP THEM HELP THEMSELVES."
Customers actually want to hear more from you. The trick? It has to be the right message and content. If it's not, they'll unsubscribe, not recall the communication they received (a travesty come JD Power survey time) and you won't get a return on any of it.
How are brands having more touch points than ever before, and not annoying customers?
Look at FitBit. They constantly nudge people toward better behaviors. It's not telling you someone else is doing better than you (unless you want it to) and rewards you with a badge that you can either share on Facebook, or do nothing with. It's buzzing you. Emailing you. Sending you notifications through the app… And people love it. Because it's helpful.
People want and are expecting this nudging from all brands now. KSV market research shows 85% of participants want to be able to visualize their energy use. 52% state they would look at it regularly and actually change their behavior.
The good news? People are interested. The challenge? Making it stupidly simple so that people continue to use them over time. Are there notifications (through your app, email or social) that you can weave into the experience to nudge customers to act?
"Good evening!" It's 9:00pm. Most people in your area are watching TV right now. Turn off lights in other rooms to save energy (and money!). Good night and enjoy the down time. You deserve it!"
"Good morning! It's 7:30am. Don't forget to unplug the coffee pot on your way out, saving energy (and money!). Have a terrific day – you've got this!
#4: DO THE RESEARCH FOR THEM.
Birchbox is the most popular subscription box service and has been for a few years; however, new ones are popping up for different niches – clothes, make up, grooming products, art, snacks, pet products, home décor – you name it.
These subscription services offer more than the opportunity to try products and brands in small quantities, these companies are acting as a quality curator of the best products within their respective niche markets.
Some of these companies are even customizing based on completed customer profiles and/or past purchase information, so the products received are completely tailored to consumer's preferences, home, etc.
In many ways, these subscription services are acting like a "Trusted Advisor" for their categories. How can you leverage this? If your customer has completed an online audit or home profile, do you know enough to curate the offers and rebates that are most relevant to them?
How are you marketing the offer itself? Don't just sell a deal on a pack of light bulbs, tell the customer the benefit of using that specific product. Own the fact that you chose to partner with that leading brand, and why. Attach yourself to brands customers already trust.
--
How'd you score?
Only 6 months to 2017… If you're looking for some quick wins, get in touch. We'd love to get started.
--
Interested in hearing more from KSV?
Enjoy this 2-page brief:
Two Things to Know about Millennials + Energy Efficiency
Believe the Hype: Hyper-targeted marketing drives business results for National Grid
July 14th
How to Engage Millennials on Energy. And why you should.
July 19th

Connected: Meet the utility customer of the future and why they are changing your business today.
August 4th