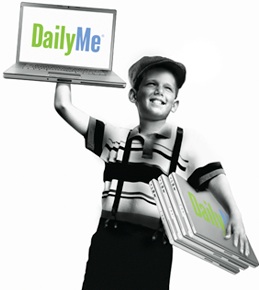 In 2001, as a bright-eyed college undergraduate (and political science major), I read Cass Sunstein's groundbreaking book, Republic.com (and later, Republic.com 2.0).
In it, Sunstein argues that the Internet and blogs have emerged as a significant political force – specifically in terms of narrowing political views. Yes, we see that in action now – and, more so, the power of social media to influence (See "The 5 Secrets to Social Media ROI").
Why? Sunstein advances the idea of the "Daily Me." The Internet, and social media in particular, has made it possible to create our own personalized news streams – the content we want, when we want it (It makes me think of my colleague, who has Perez Hilton updates sent to her email). The "Daily Me" is your own personal newspaper.
The narrowing of options can have negative effects: after all, perspective-widening is the key to being an open-minded individual, and fostering an open-minded society.
Negativity aside, I'm more interested in the potential to do good through narrowed communications channels.
Example: hyperlocalizing content on Facebook.
A recent report by SocialBakers.com found that localized Facebook strategies consistently measure three to five times more engagement in comparison to single corporate Facebook pages. Nike and Starbucks have seen the results in action.
Yet, the starting point for any successful Facebook presence is a corporate page. This is where the brand can interact with all of its customers and share company- or territory-wide news. But, put yourself in your customers' shoes: she is in Vermont and your status update is about a new product launch in California. Use your social media channels the way people use them. Preclude a fan from hitting the "unlike" button by creating a space with content more specific to customers' interest – a localized Facebook page.
Targeted local pages foster engagement among specific customer segments. They also help brands hurdle over any language barriers, regional concerns and economic or cultural differences. Message Maker opines that: "customers will be more receptive to your content if you illustrate an understanding of their unique situations."
Local pages offer the opportunity for a brand to talk up local events or specials and share photos, videos, and news stories, not to mention interacting and gathering information from customer segments about their wants, needs and questions. Building community while building local personality is at the heart of a local page strategy.
Add mobile to the mix and you have connection and content taken care of. Location-based marketing is becoming increasingly popular as people become more reliant on mobile devices. As AdAge reports: "Facebook's perception of place is to 'become another descriptor to add to any post. It can be a place you are, have been, want to go or just want to talk about.' From a business perspective, this means additional opportunities for brands to develop Check-in and tag campaigns. Encourage contacts to share their location." (Facebook offers some neat "Check-in Deals").
Convinced that you finally need to get that local page live? Before you start, follow these 5 rules for social media ROI and be ready to weather any storm when it comes to crisis communications with these 10 tips for social media crisis communications. Localized content is just as important during crisis as it is during day-to-day communications.
I'm still a bright-eyed political junkie – one who believes that, in building local community on local social media channels, we can move from Sunstein's "Daily Me" to a "Daily We" – a connected community sharing and learning with one another – and having some fun in the process. I "like" that.
What about you? Leave a comment, question, or thought below.