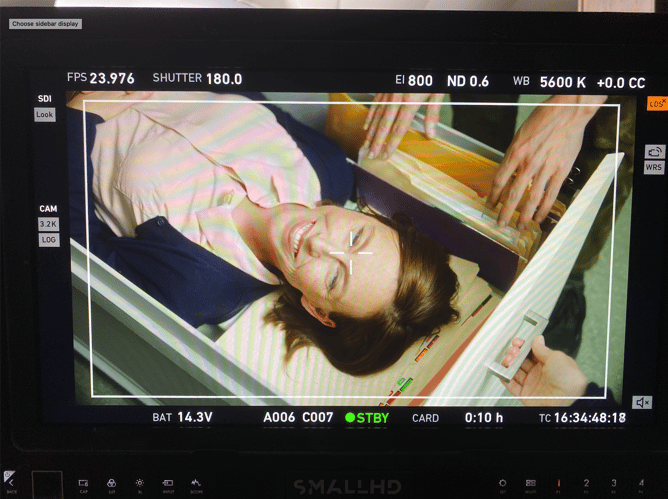 "What if we do nothing instead?"
So asks the uncertain doppelganger of our decision-making hero in KSV's latest "Uncertainty" energy-efficiency campaign. But our hero is undeterred: She won't let this uncertain version of herself stop her. No, upgrading to energy-efficient equipment with expertise and funding incentives is too good of an idea.
"The point here is, incentivized energy-efficiency upgrades are such a no-brainer that the only thing stopping you must be your own uncertainty," says Jackie Demers, KSV's Art Director, who helped to ideate and execute the campaign.
The "Uncertainty" campaign was the sequel of a previous campaign in which customers were represented as holding themselves back. But for the new 30- and 15-second video spots, KSV and the client wanted to add more nuance, speaking to the extremely relatable experience for CEOs and other business decision makers who must confront decisions in the face of uncertainty.
Here's how KSV pulled off the ads — which, after winning gold in the prestigious MarComm awards, are a hit, in no uncertain terms.
Establishing the Problem
With bigtime incentives and expert support, businesses across New Jersey legitimately stand to benefit from energy-saving programs. But just alerting customers that these programs exist isn't enough, even if making efficiency upgrades — with funding incentives — would ultimately save them money and prepare their businesses for the future.
With our last campaign, KSV pinpointed why more businesses weren't taking the leap toward a more energy-efficient future. Making a decision to adopt new practices involves overcoming the obstacle of uncertainty. Doubt can talk us out of anything. They were holding themselves back.
But doubt is only a problem if we listen to it. The next iteration of that message, Jackie says, "really came down to a language thing. We needed to attack how we were talking about the problem. We were digging into this eternal struggle that we all have as humans, this inner voice, an uncertainty in everything we might commit to do."
The idea was not to blame anyone for having these doubts. It was to recognize the insecurities all business owners might feel, and to shut them down. "We wanted to empower decision makers to be able to shut down that hesitant voice we all sometimes feel." To do that, we needed to bring the voice of uncertainty and all its silly excuses to the surface in a way that didn't feel intimidating or worse, preachy.
How We Brought the Solution to Life
Our solution was a humorous tale wherein a key decision maker, Wanda,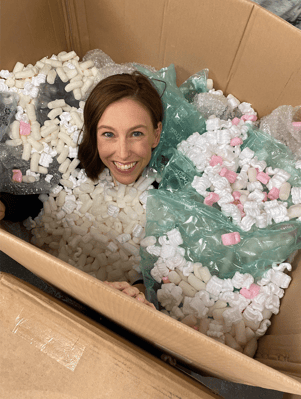 goes head-to-head against her voice of uncertainty. In a series of confrontations, "Uncertainty" shows up unannounced during the work day, impeding progress. But our confident hero shuts down her uncertain thoughts every time — as do her other confident co-heroes featured in each ad.
Given the commercial depended on dialogue and physical comedy, casting was extremely important. The star would need to play both a confident side and a hilarious insecure one. "We sat through a lot of casting sessions and auditions to find our main actress (@juliaiscooliakelly) who blew everybody away. She was charismatic, hilarious, and off the cuff, and we knew immediately she was the one," says Jackie.
Casting was also vital for another reason.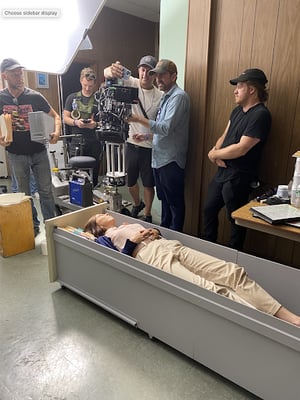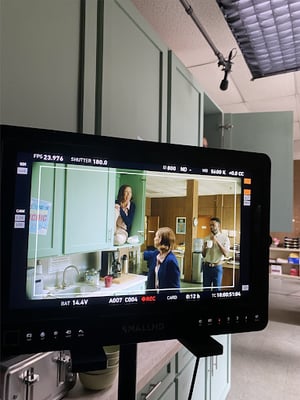 "We have a lot of power as advertisers to be what we want to see in the media," Jackie says. "We wanted to create something that was a true reflection of a diverse workspace, including confident women."
Location, too, was vital. The client prioritized shooting the commercial in their home state, so we worked closely with our production partner, Tandem Media, to find a locale that felt every bit like an office that could use an energy upgrade. Several elements of the set had to be custom-made for the project, including a large desk drawer the size of a casket that the "Uncertainty" doppelganger could fit inside, as well as a coffee station. "There's a level of texture, humanity, and warmth in an office building like the one we created and shot in," Jackie says.
The line walked, once again, was about confronting uncertainty and ending up feeling good. No leader is crazy for having anxiety about a decision. Making the right decision can be both momentous and good. And for one like energy efficiency, that matters.
Or, as Wanda puts it: "I got this."
See the full spot here.