Don't worry, we're here to talk policy, not politics.
Just like everyone else in the country (the world?), at KSV we've been paying a lot of attention to the election of Donald Trump as our 45th president, and all of the implications that will come along with this era.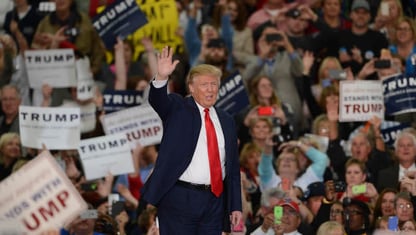 And just a week ago, we had an interview with a promising job candidate (
we're growing, by the way
), and he asked a great question:
"Are you worried about the business prospects of an agency focused on energy and sustainability under this administration?"
The short answer: no.
Energy efficiency is here to stay (and perhaps more vital than ever).
IoT is already here. IoT is accelerating faster and in vastly different ways than anyone may have predicted.
And sustainability is good for business, good for employees, and good for all of us.
But what will a Trump presidency mean for businesses, like KSV, focused in the energy and sustainability spaces? What will it mean for utilities, for energy efficiency implementors, and innovation?
We don't have a crystal ball, but we do have some very smart folks who are always willing to make a wager (particularly if it involves a friendly drink for the winner). So we developed the latest KSV Brief...Trump & Energy: 4 Predictions from KSV.
And we're also tracking along with what other smart folks have to say.
Here are three takeaways from some of our go-to resources that you might benefit from as well.
The newest revelations mean delays for already-published regulations, including air quality plans, changes to the agency's hazard ranking system, and emission standards for wood producers.
Also delayed are the EPA's new standards for renewable fuels, including cellulosic biofuel, biomass-based diesel, advanced biofuel, and total renewable fuels.
"All of the above" policies that are honestly aimed at making energy abundant so that it can be used to drive a vigorous, manufacturing economy can produce ever increasing wealth among the vast majority of its participants. The eventual and almost inevitable result should be a sustainable transition to cheap, abundant, emission-free uranium, plutonium and thorium.
That achievement will be a boon to lovers of clean air, clean water, and prosperous people. The possibility that this vision might come to pass is a scary prospect for those who continue to bet their wealth, power and careers on the assumption that the hydrocarbon economy will never end or on the myth that unreliables can do it all.
According to a new report by the Pew Research Center, 65 percent of Americans believe the country should be prioritizing the development of alternative forms of energy like wind and solar. Just 27 percent say the U.S. should focus more on expanding oil, gas, and coal.
Those trends couldn't be more different from the course President Trump appears to be plotting for U.S. energy policy.
Well, no matter what the future holds for all of us, KSV will be busy helping companies and organizations that are interested in shifting the way people use and think about energy.
Oh, and just in case you were curious, that job candidate who posed the question?
We hired him. We're betting on energy, and he's betting on KSV.
Want to peer into our crystal ball?
Check out the latest KSV Brief: