I'm writing this from our empty office. Sitting on a couch next to no one. It's so quiet I can hear the fan turn 20 feet above my head. I didn't even know we had fans. I spend most of the day looking at my computer screen. And when I'm not looking at that, I'm looking at the empty desks of my friends and colleagues. And I wonder. I wonder when we will all get to share this space together again. I wonder how different all of it will feel. I miss the sound of Shaina's laugh. I miss what Erin's smile looks like when it's not through a zoom call. I miss the sound of Tucker walking around the office on speaker phone. And I miss how loud Rachel types. Real-life, in-person stuff.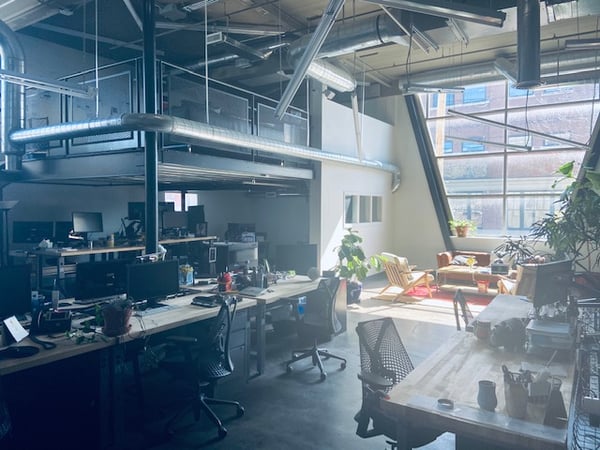 It's a strange time for sure and everyone is experiencing it a little differently.
Some of us are scared. Some of us feel trapped. Some of us feel lost. Some of us have lost someone. Some of us feel alone. Some of us don't have a job anymore. Some of us are waiting. Some of us feel anxious. Some of us are alone at work.
One thing is certain, the world will be different after this. Perhaps we will appreciate each other more. Maybe we'll spend more time living in the moment. Maybe simple acts such as a handshake or a hug won't be taken for granted.
For now, even though we are apart, we are all together in one moment. Living. Playing. Creating. Doing what it takes to keep ourselves safe. It is the spirit of togetherness and community that keeps our spirit light throughout this. We're inspired knowing that, together, we can, and we will make it through this and that there's a brighter tomorrow on the other side.
We made this video to make people smile and because we like making things.