Not cold, stiff, done dead. Just the way it used to be, dead. It's no longer this singular platform we seek out to connect with old friends from high school. It's the way of life. And it has changed every aspect of how we take in the world around us—from how we consume news, to how we market our products or services. If you're ashamed to admit that, based on weekly notifications from your iPhone (thanks, Apple), you've spent upwards of 3-4 hours per day on your smartphone, know that you're probably not alone.
A year ago, Hootsuite estimated that there were nearly 3.5 billion active social media users. Of that 3.5 billion, 3.2 are mobile social media users, meaning that they access their social media platforms primarily from their phone or tablet. That number has undoubtedly grown, and with the rise in popularity of several new social media channels over the past year—as well as enhanced features from the tried-and-true platforms—it will continue to do so throughout 2020.
2019 saw the rise of TikTok, a social media platform for creating, sharing, and discovering short, made-for-mobile videos, and the continued ascendance of Reddit, a community-driven social, news, and discussion aggregation platform. 2019 brought us a Gen Z competitor—and entirely new customer persona—for Instagram in VSCO (go ahead and Google "VSCO Girl"). It saw stalwarts like Facebook take hit after hit and (somehow) remain standing, while an "old" platform like Twitter found itself in the midst of a quasi-renaissance.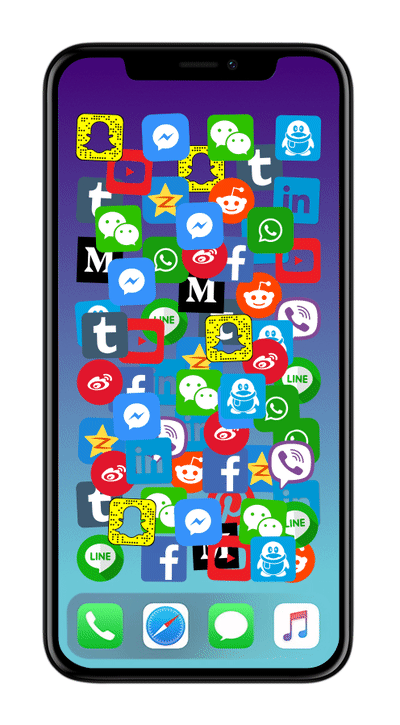 In 2020, the ever-growing list of social media platforms presents a phenomenal opportunity for brands looking to reach a broad range of audiences and communicate their message in a way that resonates. But with new social media platforms popping onto the scene every month and the old guard constantly evolving, where should brands be focusing most of their time? Should we all be running to create a TikTok account? Googling VSCO with a sense of urgency? Is Facebook taboo?
Our golden rule is that a brand should never be on a particular social media channel for the sake of being on a social media channel. With constantly diminishing budgets, the emphasis for your social media strategy should always be on quality over quantity—putting out quality content on channels where you know your current or potential audience members will be.
With this in mind, it is more important than ever to be able to make an informed decision on which social media trends are worth capitalizing on in 2020, and which ones you should stay away from, at least for the time being.
That's where we come in: as part of a semi-regular series on EnergyWire, we'll be taking a semi-deep dive into a few of the many trends we'll be keeping an eye on in 2020 (and beyond).
Up first: TikTok and video...
TikTok disrupts the status quo: Snapchat feels like a thing of the past with the meteoric rise of TikTok, a platform that gained nearly 800 million followers in the first quarter of 2019 alone. The lure of short, addictive digital content is obvious, even if the platform's objective (creative, low-pressure self-expression) is not entirely unique. 69% of the channel's users are between 16 and 24. Because the platform has not been fully flooded by advertising (yet), these Gen Z users are still fully in the driver's seat as the platform's primary content creators and distributors, providing some behind-the-curtains insights into what this audience is looking for: authentic, fun, and persona content. The rise of TikTok has been rapid, and while it is uncertain if it actually has any sticking power, there is one thing we recommend brands pay close attention to: the manufactured avocado toast-influencer posts of Instagram will not work for the next generation of consumers. While they are still open to being influenced by the many, many influencers permeating TikTok (and other social platforms), Gen Z'ers are looking for brands that won't pull the wool over their eyes, and content—from both influencers and brands—that is as authentic as possible.
Video is still king. Even if the fun, playful, and yes, we'll say it, "young" tone of TikTok isn't right for your brand, one big trend that has staying power across all audiences and all brands is the continued popularity of video. A 2019 GlobalWebIndex report revealed that 60% of Internet users said they had watched at least one video on Facebook, Instagram, Twitter, or Snapchat in the last month. Diving even deeper, HubSpot recently reported that 78% of people watch online videos every week, and 55% view online videos every day.
Still unsure if your brand should be investing in social video content? Social media posts with videos result in 48% more views than posts without video, and 85% of consumers have said that they would like to see more videos from the brands that they follow, according to HubSpot.
The statistics aren't just limited to a consumer audience: data from LinkedIn has shown that video content is now being shared 20 times more often than other content formats on the platform.
Our takeaway? Give the people what they want. Investing in video content shows audiences that you are in tune with the type of content they enjoy consuming. Consider the platform that works best for the tone and message of your brand, as they all have quality video features and capabilities. Looking to tell a more personalized authentic story through video? Consider Instagram or Facebook Stories. Interested in hosting regular fireside chats with your audience? Consider Twitter, Facebook, or even Reddit. Want to offer up regular thought leadership? Don't shy away from a regular video series on LinkedIn, such as Instagram Stories, Facebook Live, or a weekly LinkedIn videos series.
Far and away, video is the top-performing content format on social media across both paid and organic content streams, across both B2C and B2B audiences. So, when your team is looking to parcel out the marketing and social media budget over the next year, make sure that video is, at the very least, a consideration. No matter which social platforms your brand is creating content for, video is guaranteed to make an impact.
What 2020 social media trends are you most interested in learning more about? Are you ready to hop on the TikTok train, need some help planning out an Instagram story campaign, or are you simply ready to commit to a more frequent social media posting schedule? Let us know!