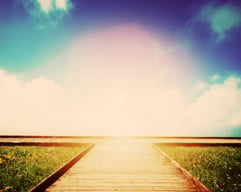 Your industry is in the middle of a transformation. You're being faced with a lot of hard decisions and "unknowns" - from balancing distributed generation demands, aggressive savings goals and navigating how to partner and lead in the land of connected homes, solutions and technologies.
Like it or not, these unknowns are and will continue to evoke only more choices for the customer. Enlying both a challenge and an opportunity.
And questions.
When the time comes, how do you make sure your customer chooses you?
And how do you keep up with this customer, who is fundamentally changing?
While it may sound stupidly simple, the solution is in getting to know them and their values.
The New Yorker recently quoted Mary Powell of Green Mountain Power, "… Getting customers to believe that you can save them money with a makeover, requires a different kind of relationship. Can we really build a deep emotional and intellectual relationship with our customers?"
We must.
This new customer is younger, empowered and tech savvy. They demand the right to choose. They demand to be courted and engaged. And while their demands are not easy, they expect the companies and products they engage with to be easy, convenient.
One important attribute not to be overlooked: this new customer is socially conscious. And they expect you to be too. They choose to invest in brands that prioritize social causes that align with their own, and that will leave the world in a better place for the generations to come. You know this. The industry knows this. But in this revolution… who is sharing a story that resonates with the customer?
Even smart products and technologies that help customers live a more responsible life… How many are standing up and saying they (the brand) live and work under the same principles?
Well, one great industry example is Green Mountain Power. (See KSV's featured article on Intelligent Utility here.)
They are an exception in the world of utilities. It is the sole public utility in the nation that has been certified a B Corporation.
These "Benefit" Corporations use the power of business to solve social, environmental and economic problems. Benchmarking and measuring the company's social impact lets customers and employees know that a company is serious about doing good, and doing well.
To understand the significance in becoming a Certified B Corporation, think of it as a LEED Platinum, Fair Trade or USDA Organic certification – but not just for a building, a bag of coffee or a carton of milk. B Corp performance standards are company-wide, comprehensive and rigorous.
Kristin Carlson is the chief communications executive at GMP. She notes that B Corp status is consistent with GMP's mission "to use energy as a force for good, improving lives and transforming communities." [Insert customer applause!]
Since achieving B Corp status, GMP has fielded a handful of inquiries from other curious utility CEOs, according to Carlson. And she cites plenty of other important connections and benefits of B Corp, including a new, budding CEO-to-CEO relationship with Patagonia, another B Corp.
Becoming a B Corp certified company is no easy undertaking.
I know because our marketing firm, which does considerable work with utilties, was just recently certified. We spent six months preparing for and six months earning our B Corp status. We're proud to run a business that meets the rigorous criteria of such an organization.
While we're using B Corp as a credible example here, it's also important that you know "taking a stand" can a variety of things. It's all about taking the right actions (that matter to your customer) and sharing them with your customers in an authentic way. This is how they (in turn) will get to know you.
Two really good reasons why taking a stand matters?
Increasingly, customers are demanding more transparency from the companies they buy from. (B Corp status enhances that transparency and shows a commitment to the triple bottom line.)
Historically, electricity has been a relatively low-interest category for consumers. Some suggest that homeowners spend about seven (7!!) minutes a year thinking about it. But that's changing. People, especially this younger and newer customer, increasingly want to know where their power comes from, how to monitor it and what their utility is doing to become part of the sustainable energy future.
How long until this kind of "stand" is a true differentiator for customer's choice?
As competition grows, and customers have more to choose from, you will need to prove yourself, your mission and your "stand."
Is it possible that GMP is pursuing a course that others in the industry will follow? Time will tell.
--
KSV is an independent, woman-owned marketing and advertising agency that has over 30 years of experience partnering with clients whose product or service help drive an effective and more sustainable future. With a deep understanding of the customer markets across categories, we're able to positively impact our clients businesses by increasing awareness, building market share and driving customer satisfaction.
Interested in our latest research-based insights? Challenged in how to engage this new customer? Get in touch.
Lauren Bell / Engagement Manager / 212.366.4000 / lbell@ksvc.com