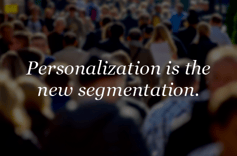 "When it comes to personalized information, customers always say they want it. But how long will they actually engage with it? And is it typically the younger customers who are most receptive?"
This was a question (and an important one) that was asked yesterday during an AESP Brown Bag webinar. KSV + Tendril co-hosted the event titled: Leveraging Personalization to Increase Customer Engagement and Satisfaction. (Interested in learning more? Reach out!)
Customers want personalized, visual information when it comes to their energy usage data. KSV research tells us that 88% of homeowners are interested in energy visualization. Over 50% (across all age groups) stated they would use it regularly.
However, 45% state they have no idea if their utility offers something like this.
This is a marketing problem!!
Just because they're interested, does not mean you can simply build it and expect the masses to join you. You still need to do two things:
Get the product in front of them. (Opt them in!)
Continue to nudge them and engage them, so you can sustain engagement through the platform.
To be clear: This is not a "set and forget" program!
In terms of the question around age and correlating interest, we did find that younger customers (18-44) were more interested than the customers 45+. But only by a few percentage points. The real difference here lies in the delivery. Younger customers, specifically Millennials, will expect this from you. So the risk in not delivering is much greater.
More on Millennials? Check out: Two Things to Know about Millennials + Energy Efficiency
Here's a real life account from KSV's Accounting Manager when she was opted into a "Weekly Usage Report" by Green Mountain Power. And yes, Cybill is a Millennial.
At first I said no. But then again, I am a fickle consumer, and the thing about us fickle consumers is that sometimes we don't know what we need/want until it's given to us.
A few months ago, I received an email from my electric company with a subject line that read: "Account Summary for Week of 10/6". Not recalling having seen a previous email like this, I opened it. To my surprise (and confusion) I did not find a payment reminder but a well laid out email showing the energy usage in my home from the previous week, how much that usage cost me, how it compared to the previous week's usage, and what my projected monthly bill total would be.
So what did I do? I deleted it.
The following Tuesday in pops another email: "Account Summary for Week of 10/13." Feeling slightly annoyed I asked myself "when and how did I opt into this? This going to keep happening. I should probably just unsubscribe." I have already admitted to being a fickle consumer, but am I also a lazy consumer? Absolutely. A lazy consumer coupled with being a byproduct of what I am (an accountant), I did the math and quickly realized that going through the unsubscribe process would take more time than the 2 clicks it would to delete from my inbox. So, into the trash it went.
Now we're into week 3 and something interesting happens. "Account Summary for Week of 10/20" appears in my inbox and this time when I open it, one very precise line jumps out at me: You used 4.38 kWh less last week, which cost $0.71 less than the previous week.
Now it's a game.
Week after week, I'm competing against myself to see that I used less electricity, which cost me less money than the week prior. Alright. Game on.
After several months of receiving these weekly updates, I made a fairly startling discovery: what initially annoyed me, I now look forward to. What I like is that:
I don't have to do anything. I don't gather, request, or calculate the information. My electric company takes care of that for me. I didn't even have to sign up for the weekly updates in the first place!
I'm better able to manage my budgets. The one thing with utilities is we pay what they tell us to; we need it, they supply it. We can control our usage, but we do not control price, so we can't always predict what our monthly bill will be with any real certainty. I love that I now have zero surprises when my bill comes in at the end of every month. I've known for weeks!
It fuels my competitive nature. I'm competing with myself weekly. The best part is that I always win.
So once a week I spend about 6 seconds skimming an email, which always opens with a lovely greeting of "hope you had a great weekend!" and I look at that very precise line and hope to see one word: less. If I see it, I cheer internally (again, because I'm winning), verify what my projected total monthly bill will be, and continue on with my day.
However, when I see "more", I have an entirely different experience. I don't cheer, though I'm not upset either, but I don't move on with my day straightaway. I actually stop to ask myself: what was different last week?
In our very busy and fast paced lives, how often do we stop to think about our lives week-over-week? I have my electric company to thank for that. My weekly summary forces me to pause, albeit for just a couple of seconds once a week, and reflect. Sometimes the reason behind the increase isn't something terribly exciting, like that time I didn't do laundry for about three weeks and got caught up one Sunday afternoon; but sometimes it is, like when I was on vacation traveling Europe and then returned home to the daily grind.
That's life. And my weekly report from my electric company provides me with small reflection of the way in which I'm living mine.
In the end, my electric company provided this particular fickle consumer with something I didn't know I wanted/needed, probably would never have opted into if presented with the option, and went from saying "No" to "Yeah. Okay. Game on."