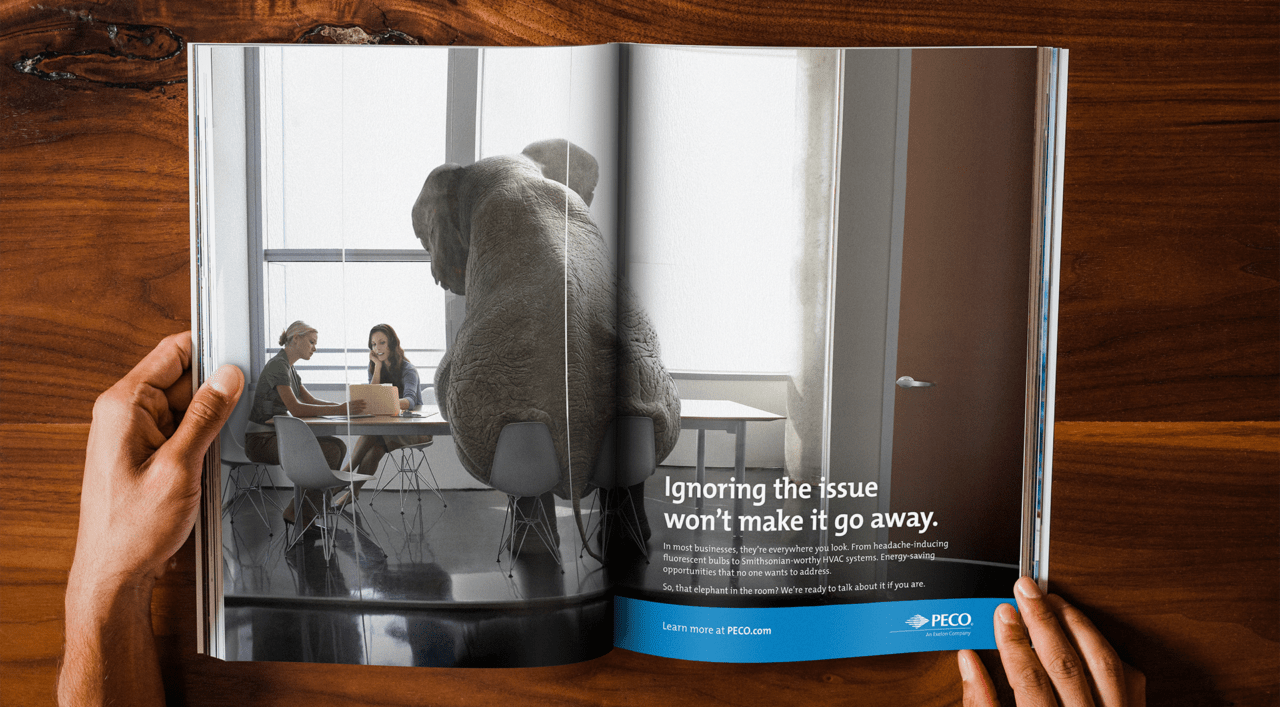 The brilliant idea was, as they so often are, initially laughed off.
During the project briefing, the KSV strategy team described energy efficiency problems for businesses as "the elephant in the room," stating that key decision makers fail to see how they can benefit from a more energy efficient business. In short, it's looked at as a big cost instead of being seen as an even bigger opportunity.
"We were all in the room working on our initial creative presentation and Nick Bruskewitz, KSV's Executive Creative Director, said, 'Well what if we we just put an elephant in the room then?'"
Initially, the KSV team laughed off the idea. For good reason. Energy and elephants don't exactly go together. "That's what I loved about the idea. We took two things that do not make sense together. Then we made them make sense." Said CCO Kevin Willard. "Unusual usually wins when it comes to trying to win over an audience."
KSV was helping PECO, a Philadelphia-based energy company, uncover a creative solution to increase awareness of their available energy efficiency programs and solutions for businesses of all sizes and types.
It turned out the problem was indeed a heavy one, oftentimes sitting directly in front of (or even on top of) business owners. So we followed that spark of an idea and set out to turn those missed energy-saving opportunities into a 4,000-pound elephant —something impossible to ignore.
A Massively Different Approach
In conversations with the client, we heard repeatedly that decision-makers at businesses of all sizes know that energy efficiency issues exist—but in juggling multiple priorities, the opportunity to fix them gets missed. "Like most things in life you know you've got to take care of, you put it off," Willard says. "You don't address it. We can all relate to that."
But when the problem and its solutions are the size of an elephant, you literally can't miss it.
B2B campaigns often face the challenge of making complex information resonate with a wide audience, and doing it on a tight budget. We needed brand recognition—a creatively executed campaign—but one that could be easily visualized and replicated to fit the client's budget. In the ad world, that can feel like having your cake and eating it too. But we set out to make it happen in a big way.
Instead of a campaign that inserted an elephant into stock photos of a worker at a desk or using an iPad, KSV wanted a campaign that would stand out and speak to the audience powerfully.
The audience - any PECO commercial customer that was looking to use less energy or manage their energy usage more efficiently - included a massive swath of Pennsylvanians, from large corporate offices to small mom-and-pop shops.
"When it comes to energy efficiency, nothing looks the same for small and big businesses," Willard says. Solutions could be as straight-forward as installing high-efficiency lighting and controls, or as advanced as implementing strategic energy management systems across an entire facility. Perhaps it was a new HVAC system that saved energy and kept employees comfortable. Or maybe manufacturing equipment like compressed air systems that needed upgrading.
"It's a lot of loosely related subject matter that we needed to speak to," says Willard.
Bringing the Elephant to Life
"We knew right from the start that the elephant in the room needed to be computer-generated," says Willard. "Photoshop only goes so far."
The goal was to make the elephant fit perfectly into each business environment. "It would humanize the problem, not villainize it. We wanted to put the elephant in the room in interesting ways, tied specifically to the environment," Willard says. "In the classroom, the elephant might be raising his trunk. In a restaurant, she might be sitting at a table."
From the beginning, the campaign hinged on the quality of the elephant. If we were going to do this, we wanted to do it the right way.
That meant partnering with the innovative visual studio 16BitPileup, whose aesthetic masterpieces have helped companies like Bose and Jim Beam with customer audiences.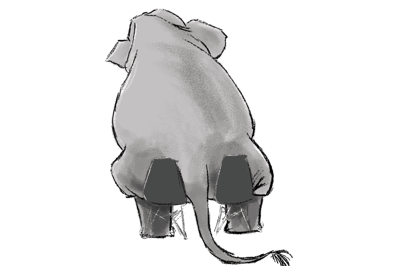 Based on early sketches, 16BitPileup created a clay model with stark detailed features, like skin folding through the back of a chair, a floppy trunk, or a giant leg propped up. With the clay model in hand, KSV set about building the rest of the scene for each PECO advertisement: Where was the elephant sitting? What was the rest of the setting?
After working with the client to finalize the images, KSV executed a series of photoshoots with real actors on a greenscreen. These depicted ordinary business people dealing with their own "elephant in the room."
"It was fun to have so much control over the whole environment," Willard says. "By controlling that environment, rather than spending budget scouting and securing locations, for instance, we were able to create the perfect look but stay well within the budget of the project."
Throughout the process, KSV's partnership with 16BitPileup allowed excellence to shine through. "We had chemistry and we loved the quality of their work," Willard says. "They have lots of experience making CGI animals come to life, and we saw that happen in this project."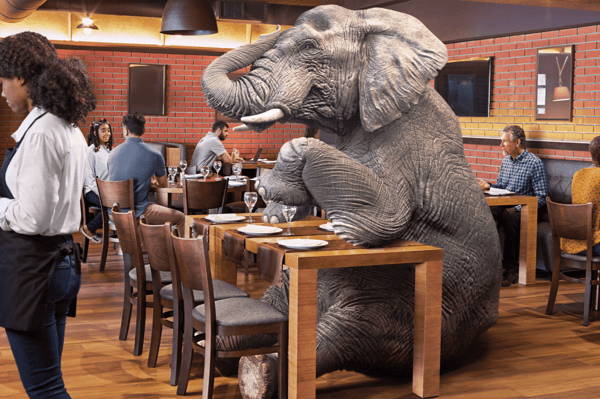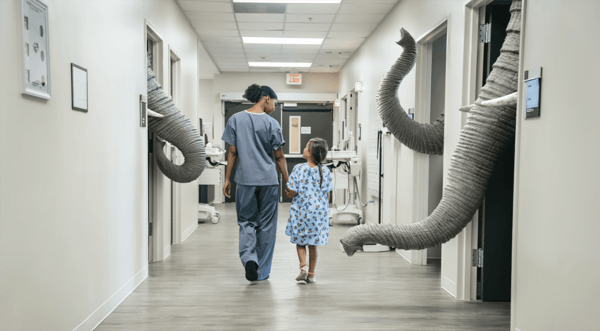 Why We're Proud of the Work
KSV continues to work on expanding and improving PECO's "Elephant In the Room" campaign. Soon you might see an elephant roaming the over-lit halls of a nighttime office, or plopping his trunk down on an auto mechanic's workbench. Despite the size and power of the beast, the message remains clear: with PECO's help, you and your business can take care of energy efficiency problems—no sweat.
"You get to put a ton of yourself into the work," Willard says. "You get to work with talented production partners on creating something entirely new. The whole team, and the client, all get to buy in. Everyone feels that confidence in the campaign, right on down to the customer."
So there you have it: a B2B campaign that resonates with a wide audience and our client, with an added pachyderm twist. To read about this and other KSV marketing campaigns, explore https://www.ksvagency.com/work/.