Last week we introduced you to customers who were kind enough to talk to us about energy, their homes and businesses, efficiency and renewables, and communication in the first of a 2 part KSV POV Video Series.
And we've saved the best for last.
(Well, not last really, we've saved the best for... SECOND!).
This week, we'll take a look at the second video and the last 2 of our Top 5 Takeaways from this KSV POV Video Series. (Miss the first video and takeaways? Check them out here.)
Worth noting: all of the customers featured in this video are customers of a single utility.
Watch the video and hear from customers on the communications they get today, and what they actually WANT to hear from their utility:
#4. The communications are NOT working.
Ok, this is a cheat, we know. We had this takeaway last week, but it is SO important we are going to repeat it. You heard those folks in the video. The bill goes right in the trash. They aren't looking closely. They don't take it apart. They are NOT listening. But, they are interested.
So... a couple points here:
Bill inserts are likely NOT your best method of communication, or at least not your only one (wait, are any of you still only doing bill inserts? If so, please call KSV immediately. We can help).
And, people will listen if they feel the communication is tailored to their situation. Which just so happens to lead us to...
#5. They are open to personalized communications... IF they add value.
Another interesting moment. So in our quantitative research we heard 66% of people say that the communications they get from their utility lack relevance, and 75% said that more personalized communications would be helpful. But often what people write in a survey vs. what they say when in conversation on the street don't match up. In this case, almost everyone we spoke with said they recognized the value that communications that were more tailored to their experience would offer them.
Want even more insights?
It's shaping up to be a great fall for KSV. We're all over, talking to folks about the voice of the customer, millennials, and how communications can add value:
10.14 We'll be speaking at REV VT (Today!) on a panel about marketing innovation and segmented target markets
10.18 AESP Digital Conference: We'll be speaking on Connected Consumers and what role utilities can play
10.20 BECC Conference Baltimore: KSV has a whopping THREE different sessions, we're presenting on Millennials and why Smart Utilities should be paying attention, Segmentation vs. Personalization, and what we've learned from a year of Energy Wire and Voice of the Customer Videos
Come say hello!
_____________________________
________________________________
Want to see the (award winning) campaign that KSV and National Grid did for large C&I audiences?
Great news: we've got a brief just for you.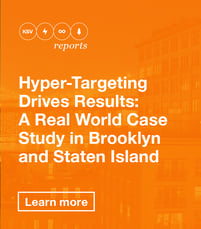 Download the brief now.