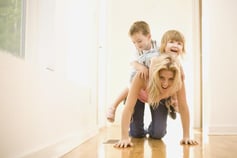 "Who run the world? Girls." - The Great Beyonce Knowles
If you were following the New York Energy Week (#NYEW2016), then you likely followed the Women Disrupting Power panel and the female leaders sharing their experiences and advice to further grow and innovate this exciting space. As a woman-owned business, we thank you for your inspiration!
Beyond the incredible women in this industry, there are also incredible women inside the home, holding power and impact beyond measure.
As "CEO" of the home, women typically hold themselves accountable for making sure the house and family run as efficiently and painless as possible. This is not a stereotype. It is also widely applicable to women working a full time job outside of the home, not just those whose full-time job is the home. (Research shows that even when men don't have jobs, they do less work around the house than women. Surprised?)
As marketers, it's no longer a surprise that women control household spending. But did you realize that by 2020, women will control between $30-40 trillion of U.S. consumer wealth?
They buy EVERYTHING!!!
Women are even showing dominance in the consumer electronics space, which was for so long dominated by male consumers. Parks Associates reports that, "Women are frequently the product buyers – and once she owns a CE product, she becomes a heavy user… manufacturers are picking up on this charged buyer, offering their products… in more colors and styles with more personalized accessories."
As it relates to the connected home and smart products, women are keeping up, but don't quite hold the interest or impulse of their male counterparts. But new Moms… Different story. Moms are putting wearables on their babies to track their breathing and overall "health analysis" in addition to the baby monitor that's sending live video to her mobile devices. Is this an entry point for further smart home adoption? Oh, Perhaps…
When it comes to the home, women (and especially Moms) want to ensure safe and healthy environments for themselves and their families.
When it comes to energy efficiency, you need to know one thing. KSV research shows that 85% of women are the primary bill payer in their household.
This means they are the most in touch with the bill. (So, if that savings message is going to work at all… It's going to be on her.)
KSV research shows some interesting findings on Moms specifically:
They are more likely to want MORE communication from their utility across all categories: Energy Efficiency, E.E. Rebates, Bill Pay Solutions, Safety Tips.
Moms are more likely to want personalized communication from their utility (83% vs. 74%)
Moms are almost 10% more likely to visit their utility's website often
Moms are 14% more likely to use a utility's mobile app
Over half of Moms would be likely to follow their utility on social media IF it offered the following content: Tips on how to save energy, Power outage updates and Information on programs/services offered by the utility.
On top of this, women (especially Moms) serve as the greatest influencers. Take this statistic for example: On average, men will recommend things of value to them to approximately 2.6 other people.
Take a guess for women: 1… 2… 3…
21 people. On average, women will recommend things of value to them to approximately 21 people.
How can you provide something of value? How can you get their attention, so that they become an advocate for you?
Give us a call and let's get started.