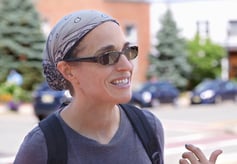 Meet Eliza. She is a real-life customer who lives in Clifton, NJ. And her story is an important one, because her challenges (and therein, the customer opportunity!) are widely shared across her generation.
Eliza is 34 years old.
She is married with two small children.
She and her husband have been living in their house for almost five years.
When they purchased their home, they were looking for a smaller, older home with character that they could update.
Five years later, Eliza still considers herself a new homeowner because she is still encountering the many "firsts" that come with home ownership, specifically the maintenance challenges.
Eliza describes being a novice homeowner (of 5 years):
"This is the first home we've ever owned. We don't know what to expect."
Eliza explains who they call and trust when something goes wrong:
"We still call our parents all the time."
Eliza talks about what would be helpful:
"It might be nice to know approximately how long furnaces last, when we should start looking out for it. Maybe there should be routine service check-ups like you do for your car."
She explains that living in a home with old drafts and the hustle and bustle of daily life with kids, she knows their home is using a lot of wasted energy. She's paying more attention to her energy use as a result, but she doesn't know what to actually do about it.
And the reality is… she doesn't have a lot of time to figure it out. She's chasing children and working a full time job.
Her POV? An efficient home is hard to manage. Especially when you have no idea what the solutions are. It's hard enough to manage home maintenance. Could the two be connected? That would be nice.
Between Millennials and first-time homebuyers, there is tremendous opportunity for brands in the space to build meaningful customer relationships at the intersection of energy efficiency and home improvement.
Want to learn more?
Enjoy this 2-page brief:
Two Things to Know about Millennials + Energy Efficiency
Or – KSV is the closing speaker on this very topic in AESP's Online Conference on July 19th. Join us!
--
More upcoming events:
Believe the Hype: Hyper-targeted marketing drives business results for National Grid
July 14th
How to Engage Millennials on Energy. And why you should.
July 19th
Connected: Meet the utility customer of the future and why they are changing your business today.
August 4th