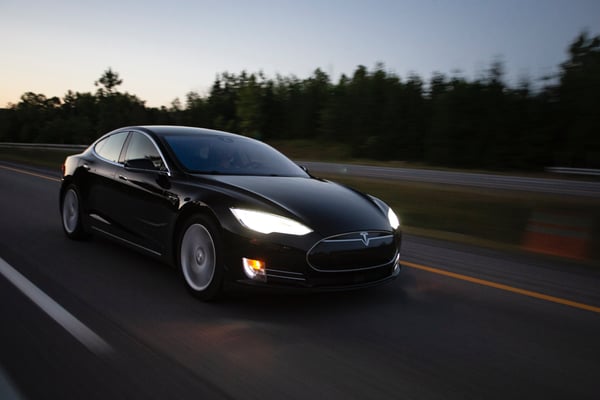 Tesla sold an estimated 14,250 Model 3 sedans in July, a 225% improvement over the electric car's previous record sales month. That monthly sales figure might have seemed to be a fluke, but Forbes reported that the sedan hit a new sales record in August, reaching 17,800 units.
For some context around those figures, the Model 3 became the fifth-best-selling car in the country in monthly sales. And, more interestingly, the Model 3 is now the best-selling luxury car in America, outselling, for example, the entirety of BMW's passenger car lineup.
That's right, an EV is the top-selling car in its competitive set. Will the luxury market push the EV market out of its infancy?
If the product plans of luxury auto manufacturers are any indication, the answer is yes, and any organization with KPIs related to EV adoption should take notice.
Spotting the consumer shift away from sedans toward SUVs (outside the Model 3, each of the 10 best-selling luxury vehicles in the U.S. is an SUV), at least four brands will release all-electric SUVs in the next six to 24 months:
Jaguar's well-reviewed I-Pace goes on sale any day now.
Audi launched a campaign for its new all-electric SUV, the e-tron, during the Emmy Awards a few weeks ago and began taking reservations earlier this month.
Mercedes-Benz and BMW are joining the fray with all-electric versions of their best-selling SUV models in 2019 and 2020, respectively.
And of course, Tesla may well lead them all when it unveils its fifth model, a more affordable alternative to the Model X SUV, in March 2019.
It's no surprise to anyone that a concerted effort is happening to increase awareness and purchasing of electric vehicles on a broad scale.
Transitioning the "everyday" vehicle consumer over to EVs may be a strong long-term strategy to reduce carbon emissions, but are luxury SUV shoppers the key to meeting carbon reduction goals at a quicker pace? And should they be a core part of the energy industry's short-term EV targeting strategy?
We're tackling these questions and more in our next round of research on EV sales and consumer perception. In the meantime, we'd love to hear your thoughts.
---
*** KSV is an exhibiting sponsor at next week's (10/1-10/3) NEEP Summit in Rhode Island. If you're there, be sure to stop by and say hello! ***