There is a lot that we don't know about coronavirus, but one thing is certain: it has been a disruptor to nearly all industries and ways of life. Our latest research uncovered insights from 1,300 US homeowners, nearly all of whom have spent the past few months sheltering in place at home. The results highlighted just how much the global pandemic has shifted perspectives and behaviors around energy use.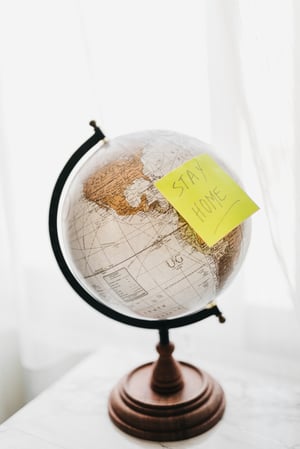 We plan to package all of the research up for you soon (stay tuned!), but until then, here are five things—lightning round style—that consumers want you to know when it comes to COVID-19 and their at-home energy use:
1. Half of all homeowners are concerned about energy bill affordability during lockdown. The pandemic has heightened concern around energy use at home and energy affordability, with 33 percent of respondents stating that they are more concerned about their energy use during the pandemic than usual, and a majority (55 percent) noting that they are at least somewhat concerned about being able to afford their bill. Nearly one-quarter of respondents said that they are very concerned.

2. As a result of the pandemic, 1 in 5 homeowners have become more interested in solar and energy storage. The pandemic has inspired some homeowners to think more about energy usage, with one-third of respondents noting that they have become more interested in saving energy in general and two-thirds answering that they are attempting to reduce energy consumption during the pandemic. 1 in 5 noted that they have become more interested in solar and residential energy storage.

3. 60 percent of homeowners have become more sensitive to an energy-related issue in their home during the pandemic such as discomfort, high energy bills, or poor indoor air quality. Nearly a third of respondents said that they have become more more sensitive to the issue of comfort - or discomfort - in their homes, creating potential opportunities for energy companies to craft thoughtful solutions and messaging around weatherization programs, energy storage, heat pumps, and smart home technologies, as well as (safely executed) home energy assessments.
4. Three-quarters of homeowners that had energy-related home improvement project plans prior to the pandemic still plan to complete their project this year, if they haven't already. 26 percent of respondents said they were planning an energy-related home improvement project prior to the pandemic, and of those, nearly three quarters have either completed their project or plan to soon after the pandemic dies down. This is an optimistic note for contractors and energy services providers: by and large, people that have already had their sights set on improving energy usage in their home are determined to get that done this year. The most popular project either completed or planned? Weatherization, followed by remodels.
5. Even so, 1 in 5 homeowners would be concerned about having contractors in their home in the age of COVID-19, no matter which type of safety precautions are taken. Of all respondents asked, most said that they would like contractors to wear masks and gloves at all times while also respecting social distancing guidelines (six foot separation between contractors and customers). Participants also noted that they would want contractors to clean and disinfect their equipment and the area of the home undergoing work.

The bottom line: In light of COVID-19, customers have taken notice of just how much energy they're using. They're primed for receiving messages of support and custom energy solutions that will keep their family comfortable while reducing energy consumption, and whenever possible, save them money. Even (and rightly) so, customers remain highly concerned about the safety and well-being of their families.
Survey respondents have underscored the opportunity for energy companies and energy solutions providers to provide enormous value at a time when so much is uncertain. Any actions and messaging implemented must be done thoughtfully, with the reality of the "new normal" putting safety at the forefront.
Stay tuned over the coming weeks as we dive deeper into these insights. Want early access to our upcoming COVID-19 Whitepaper? Be sure to subscribe to our EnergyWire email list.