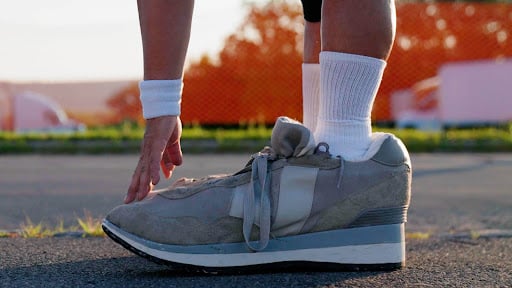 The best way to understand someone's problems, as the old adage goes, is to walk a mile in their shoes.
Especially if they're size 50s.
"The idea was, what if our feet were as big as our carbon footprint?" said Tomas Salazar, a senior copywriter at KSV.
A large number of Americans have an outsized carbon footprint, or the total amount of greenhouse gasses, including carbon dioxide and methane, that we each generate. On average, Americans have a carbon footprint of 16 tons per person, one of the highest in the world, according to the Nature Conservancy. (Curious what your carbon footprint is? You can calculate it here.)
Big Footprints — Big Feet
Seizing upon this common example, our latest campaign promoting clean heating and cooling solutions featured a man living with his massive, oversized feet — and learning how a heat pump can shrink his carbon footprint.
The multi-channel campaign started with a TV spot: Man with giant feet attempts to run on a treadmill. Message: When your footprint is too big, the miles don't exactly breeze by.
Next, the team wanted to make as big of an impact as possible. How could we bring the "Big Feet" campaign from the screen to the real world? Most importantly, how could we force people to consider how hard life would be if their feet really were as big as their carbon footprint?
What the team came up with, Tomas said, was "What if you… had to actually run a race with these massive feet?"
The race we landed on was the Boilermaker, a 15K and one of the most popular and densely attended road races in upstate New York. To run the race, we made new shoes, since the ones made for the TV commercial were too heavy. Working with a prop designer, we made a giant, wearable pair inspired by New Balance 515s — a legendary dad shoe. Each shoe weighed 12 pounds and was nearly a foot high and two feet long.
"Try running in those," said AJ Powell, associate director of activation.
And they didn't just need shoes — they needed a runner. One candidate immediately stood out: Lorenzo Beronilla (@rollininabenzo), a chef and published cookbook author, creator of funny and useful cooking videos, with a charismatic, warm personality. "How he moved with the shoes was important," Tomas said. And once we met Lorenzo, we knew he'd be able to convey the challenge of running with larger-than-life feet in an authentic, unforgettable way.
Race Day
The day before the race, Lorenzo and the team connected with crowds at a pre-race event, handing out hot/cold packs (which, like a heat pump, could cool or heat, based on what's needed) and fielding questions about his larger-than-life feet.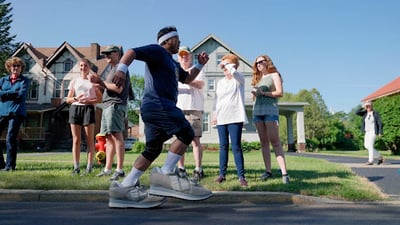 And on race day, Lorenzo took off with the starting gun, giant feet and all. In the end, Lorenzo was able to navigate a few short sections of the race, weighed down by his enormous carbon footprint. And actually, Lorenzo's utter inability to compete in the race was the perfect metaphor we were going for all along.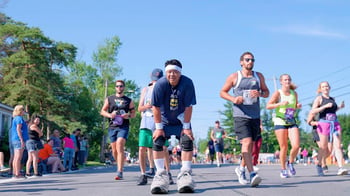 "He was passed by everyone. Dead last," said Haley Champion, activation manager. "Of course he still had a smile and was cheered on by the crowd. And everybody wanted to know, 'What's going on with your shoes?' He would get the chance to explain about his oversized carbon footprint and have great conversations the whole time."
Big Shoes, Big Impact
Big feet, big problems, big solutions. And, it turned out, big audience.
Public relations efforts for the "Big Feet" campaign resulted in an estimated online and print audience of 22.4 million people. Paid posts on Facebook, Instagram, Twitter, and TikTok generated 50,000 site visits and 2.9 million impressions in 6 weeks. The TikTok videos were viewed 800,000 times. And the perception of heat pumps increased by 19 points among our target audience.
People didn't just see it. They had fun.
"Lorenzo and his big feet were cracking people up," Haley said. "It was extremely fun to watch all the engagement."
That real-world engagement felt like a big win for this high-concept idea. We'd taken an awkward clumsy carbon footprint idea and brought it to life across multiple channels, from TV to race day. Call it walking the walk, so to speak.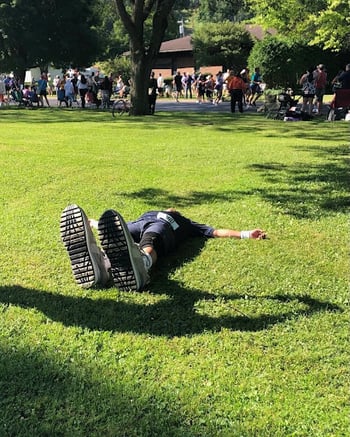 Check out more of our work here.