A few months back, we talked about how awesome plastic is.
Yes, it is actually terrible. But its terribleness is what makes it so awesome (still with us?) in that it pushes brands up against a wall, forcing immediate change and innovative ideas.
This week, we thought it would be interesting to dive into some of the most recent ways in which brands across the globe are fast-tracking innovation to address the plastic crisis.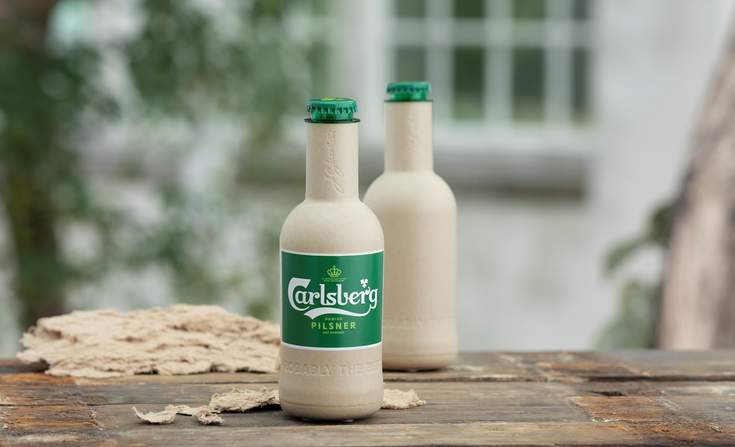 Image Credit: Carlsberg
Carlsberg introduces paper beer bottle. In our initial plastics EnergyWire we highlighted the Danish beer brand's efforts to reduce their own plastic waste with the introduction of the Snap Back, which eliminated the plastic wrapping used to hold six-packs together. The move resulted in a 76 percent reduction in plastic usage compared to previous multipacks.
Now the brand has gone a step further, introducing the first-ever paper beer bottle, made with sustainable and recyclable wood fibers. The unveiling is part of Carlsberg's Together Toward Zero initiative and, as opposed to a one-and-done effort, showcases their long-term commitment to reducing plastic waste and cutting carbon emissions.
The takeaway: A multi-pronged sustainability strategy that is evident in both the operations of the company and the product itself shows customers that a brand is genuinely committed to solving the problem, versus hopping on the bandwagon of an "of-the-moment" trend.
Los Angeles looks to pave its road with recycled plastic. The people of Los Angeles are no strangers to the problem of pollution and carbon emissions, with residents of Los Angeles County being exposed to 60 percent more vehicle pollution than the average state.
A sobering statistic, especially when one considers that the city faces a plastic waste crisis of its own (on top of the larger, global plastic problem). These obstacles make the announcement of a pilot to pave the city's roads with recycled plastic that much more significant. The city of Los Angeles has been working with a company called TechniSoil to test out a new method for paving roads using repurposed plastic as a binder. The first pilot site of the project is on track to be constructed in downtown LA later in 2019.
The plastic asphalt will not only reduce production emissions and the cost of materials; it will also be quicker to install, and tests have shown that the plastic paving is six to seven times stronger than regular asphalt. That increased durability means less time being spent re-paving the roads in the future.
The takeaway: Tackling a global crisis in a way that helps solve everyday frustrations for residents and business owners is a win-win for everyone. Yes, consumers care about the plastic crisis. But they are also deeply and frustratingly affected by day-to-day urban infrastructure issues that have a significant effect on their quality of life. Using recycled plastic to solve day-to-day issues like poor road conditions brings the focus back home, while simultaneously showing the city's larger commitment to the big picture.
What are some other recent initiatives brands have unveiled as a way to address the plastic crisis? We'd love to hear which ones have caught your eye.