Last week we wrote about a small player making a big break that got some attention.
This week we're focused on some names you might be slightly more familiar with.
When Amazon announced that it would acquire Whole Foods last week, the business world snapped to attention.
Both Whole Foods' and Amazon's stock prices went up.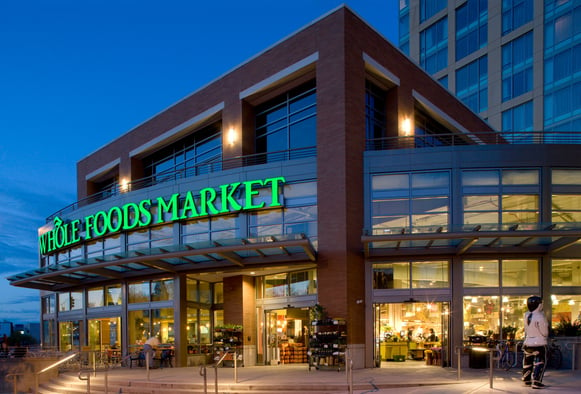 But what does the e-commerce giant that has totally changed the way we shop mean for an industry that has been relatively the same for years?
And what lessons could the energy industry glean from this move?
1. It's not about market share.

A lot of people were wondering why Amazon would acquire Whole Foods when they make up only 1% of the grocery industry market share. But Whole Foods is the future. Amazon will have some work to do in rebuilding the organic foods giant as a more competitively priced entity, but they realize some great business decisions require a longer ROI plan. And this deal just gave them a lot of real estate to work with.
Are you innovating to be ready for tomorrow or ten years from tomorrow?
2. If you can't innovate, acquire innovation.

Amazon has been looking to up its physical footprint and this move just got them 460 brick and mortar locations. These new locations can double as warehouses for their e-commerce business cutting their delivery time by days. People could theoretically even walk into a Whole Foods to pick up some milk and return a package.
No matter what the future looks like, it's probably different than what we're imagining, and Amazon is challenging itself and its business model to
constantly innovate.
We know that disruption and change aren't just coming to the energy industry - they're
here
.
Will your organization innovate fast enough to keep up?
3.

Get closer to the customers.

Amazon is an online retailer that has now just placed themselves into neighborhoods across the country. Not only will this allow them to cut delivery times, but this gets them even closer to one of their biggest audiences, upscale suburban families. This is an opportunity to learn so much more about the shopping patterns and behaviors of those customers as the company just changed from an online shopping habit to a much more frequent touch point.
And who here doesn't want to know more about their customers in an effort to improve customer satisfaction?
4. Make the competition sweat.

Wal-Mart has been having a hard time keeping up with Amazon's online market and the addition of grocery stores to its roster could be the straw that breaks the camel's back. While Wal-Mart has significantly more stores than Whole Foods, having to compete with Amazon in yet another area could prove to be difficult.
The energy industry is more competitive than ever, especially between regulated and non-regulated entities.
Will you be an innovator? Or the organization that's blindsided when a competitor re-writes the rules of the game?
5.

Prime opportunities. Pun intended.

See what we did there? Amazon Prime members enjoy the luxury of free two-day shipping and special pricing. The new Prime membership could include discounted prices and special options on groceries at Whole Foods locations.
What we're seeing here is Amazon, the most customer centric company in the world, becoming more customer centric.
What disruptions or step-changes to your business could do the same thing?
6. Owned Assets Are Valuable Marketing Tools

Biggest ad buy in history? Amazon just said so long to a traditional media buy in favor of nearly five hundred 40,000-square-foot buildings. While this probably wasn't one of their reasons for the acquisition, they just bought ad space all over the country where they can promote any one of their offerings, be it Prime memberships or its product deals of the day. The possibilities are endless with a secure space and the ability to swap out content by the minute.
Now consider this: is your organization leveraging your current owned assets and customer touch points to their fullest potential?
We have to keep our minds open to the possibility that progress and innovation may not look the way we think they will.
Because if we don't, the competition will.