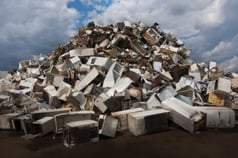 "I ought to put it in the back of my truck, take it to [my utility] and dump it in their driveway, since they have no other solution for me," says one customer.
Last week's JACO Environmental closure was not exactly the way customers or their utilities wanted to go into the Thanksgiving holiday. It added unneeded pressure to many MarComm teams at utilities across the country, and an unforeseen stress to customers hosting Thanksgiving dinner with a twenty year-old refrigerator in their driveway and no second fridge to house the leftovers (when they could have had one had they not unplugged it for pick up).
We're all aware that the industry is doing a lot of talking on evolving business models and marketing efforts to be more customer-centric. So, use this JACO issue as a pilot. How have you handled it? Are you leveraging this challenge as an opportunity to engage customers when they're actually listening to you? Using it as an opportunity to affect overall sentiment?
Step One: Make sure you're addressing what the customer actually wants to know. And most likely, it comes down to three things-
What do I do with my refrigerator?
What do I do with the original check I was issued?
When will I receive my new check?
And for good measure… WHAT DO I DO WITH MY REFRIGERATOR?
Step Two: Make sure you're addressing these answers how and where the customer wants to engage.
Was the call center informed with the answers above? Will customers be on hold for 20 minutes?
Is the social media response team informed to handle these conversations?
Step Three: And this is most important. Be proactive. Not reactive. Prove the customer perception wrong. Take this customer service nightmare (on a holiday nonetheless) and act like a Trusted Advisor.
Did you react quickly enough that you could provide answers before you were asked the questions?
The other big takeaway is that you cannot think of this as a one-and-done deal. "Just get through this and it will be over. We'll push other programs heavier to make up for the savings and the sentiment."
That's not how this works.
There's no better opportunity to drive customer response, engagement or sentiment than in a situation where customers need your help.
Your response protocol for unforeseen situations (appliance recycling partners going bankrupt, storm outages, emergency pipe repairs…) should follow the same customer-centric, guiding principles.
We went back to a J.D. Power report from their Storm Outage survey. It's timely to review some of their key takeaways and think about their relevancy beyond outages. For the purpose of broadening this exercise, we've replaced outage with [X]:
Information is key. Keeping them informed during [X] is an integral part of the restoration process. Knowing the cause of [X] improves satisfaction among customers who experienced [X]. There is also a direct correlation between satisfaction improvement among these customers and the amount of information they received about it.
Utilities should embrace new communication technologies and channels. Customers who receive [X] information through electronic sources, such as websites, email and text messages, are more satisfied with their utility's [X] performance than are those who do not receive information electronically.
Providing the cause of [X] is also a vital point of information. Residential customers are more satisfied with the [X] experience when they receive this information. Higher satisfaction is not unexpected because utilities can provide this information easily and accurately.
Other key takeaways include: providing estimated and accurate times of restoration + deliver information and updates until there's final resolution. Keep customers informed!
If you don't want refrigerators in your parking lot, be proactive. Make sure you have a system and response protocol in place to handle the unknown. Have a partner that can support you in these difficult times to ensure you leverage the opportunity that comes with the unforeseen.
And that's just what we do. Give us a call.
Lauren Bell / Engagement Manager / lbell@ksvc.com / 802.862.8261