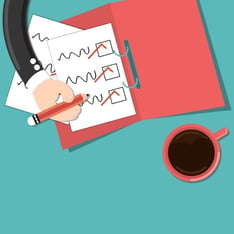 New market research tells us one thing loud and clear: It's not that customers don't care about energy efficiency. It's that energy efficiency isn't even on their radar. (So when it comes to the ever growing to do list… these upgrades don't make the cut.)
We recently surveyed 1,345 homeowners across the country to better understand the customer relationship (or lack thereof) with energy efficiency. And get this...
86% state the world will benefit from increased E.E. technology.
75% state E.E. will have a substantial effect on the American economy.
… And all within the next 5-10 years.
So, why did over half of participants not make any E.E. upgrades in the last 12 months? And only 18% said to have participated in a utility E.E. program.
Where's the disconnect between the customer outlook and customer action?
How do we get on the to do list?
It's a tremendous exercise to conduct an industry audit on E.E. and/or utility marketing and communications. You'll see that a lot of time and energy is put into selling E.E. solutions. (Sign up for a home energy audit! Save energy and money! Rebate for LED bulbs!)
But, how can we ask customers to fix something they don't know is broken? When do you act on a solution before you understand the problem?
Step 1: Get on their radar.
Customers have become normalized to everyday inefficiencies in their homes and workplaces. If their bills are consistent, they think they're efficient… Right?
They tune out E.E solutions because "those programs are not relevant to me."
Our 2014 market research showed 69% of participants stated they adapt to inefficiencies in their homes and/or businesses rather than seeking solutions.
In 2015, our market research showed that not much has changed. Customers said again and again, "The only time I think about energy efficiency is when someone mentions energy efficiency."
We also heard, "It's not about energy efficiency. It's about improving my home."
So how do we get on the customer radar with a topic that is so far from the list?
We have to make it matter within the context of their lives. How do your solutions enhance the daily lives of the people you're talking to? Do these solutions improve the quality, health and value of the home? Do they increase the overall home comfort? Do they deliver control and consistency in both the home and the bills?
Trigger a deeper, more emotional response. Simplify the complexities of this industry into marketing that speaks directly to the motivations of your customer, and we'll get them inspired. We'll get them to care.
We'll get on the list.
Lauren Bell / Engagement Manager / lbell@ksvc.com / 802.862.8261