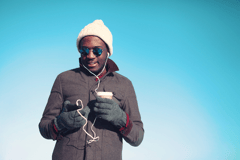 Over the last few weeks, we've been talking about trends that will mold the future of E.E. marketing. The over-arching theme is connecting and leveraging the customer touch points to create long-term consumer interest and action. (Six Trends to Mold Successful E.E. Marketing)
We've gone deeper on customer motivations and the importance of transparency and customer empowerment. Insights include:
· Hook customers with the emotional drivers (those non-financial benefits) and then support them with rational arguments. (Motivating the E.E. Customer: Financial vs. Non-Financial Benefits)
· Empower customers with benefits that impact their lifestyle and their communities. Give them context around our nation's energy goals, the goals of their communities and their personal impact. Bring them onto your team. (Five Opportunities to Expand the E.E. Conversation with Customers)
This week, we're adding another element to this conversation: Connecting with the Ever-Connected Customer.
Why is this so important? Because we're not just talking about the Beats-headphones and Fitbit-wearing, mobile device-centered millennial anymore… According to Accenture, more than two-thirds of consumers plan to buy connected technology for their homes by 2019. (Smart thermostats alone are expected to have a 43% adoption rate in the next five years.*)
KSV's newest (and not yet released) E.E consumer research tells us that:
· 85% of homeowners are interested in regularly visualizing their energy use.
· 71% would change the times they operate their appliances to off-peak periods, if they had smart appliances and could monitor peak energy times.
· 86% think the world will be better off because of increased energy efficient technology in the next 5-10 years.
It's obvious that supporting the connected customer is no longer a trend… It's the future. People either are or will invest in smart technology and in creating that connected environment. People are trending towards living smaller and smarter. They're excited around being thoughtful and celebrating less consumption through less square footage.
By supporting the connected customer, you are giving them control. You are giving them the tools to live as efficiently and comfortably as they possibly can. The beauty? The heat is off you, and on the customer.
How can you support this "connected" lifestyle? Partner with brands that capture the attention of your audience and with whom they trust. Make it easy for them to participate in this smart revolution. Nudge them. Support them. Advise and incentivize.
While most consumers may not understand the complex and ever-evolving nature of this industry, they are aware that it's changing. Rapidly. Customers need to know that measures are being taken to update old infrastructure, produce a cleaner product, connect with new technologies and to better serve the changing needs of the marketplace.
Partnering with brands that represent the future of how we'll live and play is a simple way to engage with customers, increase savings and even satisfaction. A terrific example of this would be the Nest and Reliant work to sell more smart thermostats. It's fair to say… But what work wouldn't be successful with Matthew McConaughy's beautiful, Texan drawl? However, with or without him, the strategy is smart. The spots showcase the tangible benefits of living in a smarter, more thoughtful home made possible by both Nest and Reliant.
In an age of consumer discontent with utilities, energy efficiency is one of the only positive touch points utilities have with their customers. So use it. Be bold with it. Make it your brand. Just like you navigating this ever-evolving industry, your customer is navigating new technology – be there for them.
NEW E.E. CONSUMER RESEARCH
In the next few weeks, we will be releasing our newest research on the American homeowner. After surveying 1300 participants, we've gained valuable insight into the consumer relationship with energy efficiency, consumption, conservation practices, smart technology and their outlook on the future. In addition, we're uncovering the most effective and trusted channels to engage with people on these issues. Our objective in gaining a deeper understanding of this relationship is to inspire our clients' customers to think, act and buy more sustainably.
Interested in learning more? Contact Lauren Bell.
Lauren Bell / Engagement Manager / lbell@ksvc.com / 802.862.8261