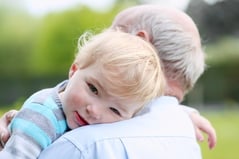 How do Baby Boomers fit in the world of sustainability and energy efficiency? We know these Americans were born between 1946-1964 and that they're the largest generation of Americans born in U.S. history. Today, the oldest Boomers are already in their 60's. Why are they relevant to you?
They've contributed significantly to our economy over the years, but they remain significant consumers, particularly with respect to housing.1 In fact, they'll spend $1.9 trillion on home costs and $500 billion on rent between now and the next decade.
For a lot of these Boomers, their house is their biggest asset. They are more likely to be diligent with the upkeep of their homes and their behavior than other generational segments. Boomers are aware that making sensible changes now (whether a simple investment of replacing window blinds to a bigger investment of replacing a heating and cooling system) will help in the long run.
Boomers are also living longer (yeah!), so that means keeping monthly costs in check are and will continue to be a priority for this generation. While they're cautious spenders, they outspend younger adults online 2:1 on a per capita basis.2 This means they have the money to invest, but they need to be convinced.
How can you reach this audience? AARP states that the top four online websites for people over 60 are Facebook, YouTube, Google and Yahoo. Boomers are largely plugged in and even using FaceTime and texting to reach out to their children and grandchildren. By 2015, 60% will be grandparents, which is a role they value.3
They're more likely than other generations to:
· Use a desktop computer
· Read the newspaper
· Have a landline
· Watch traditional TV
They spend 174 hours per month watching TV and are the dominant audience in the majority of the top rated shows. Boomers are also getting the majority of current events from their local newspapers or bigger papers such as the Wall Street Journal. This generation is close to retirement so a large focus on their daily habits are watching the stock market and keeping up on the latest investing trends.
While Boomers are tech savvy and order products online, they don't appreciate a flood of direct marketing (particularly through text messaging or social media). They are more likely to have an aversion because they view it as an invasion of privacy. However, Mintel research proves that Boomers may be more receptive to tailored advertising if there is an added incentive. 37% stated they only wanted emails from companies if they offered something in return.3
What does this mean? Incentives and financial messaging may resonate more with this audience than younger customers.
So, how do we convince this important generation to look at the sustainable consumer model in a different way? Focus on the value, financial savings and long-term benefits. And while we are always trying to push the latest technology, it's important to remember this generation has a more traditional behavior, so message appropriately when utilizing these channels.
Julie Brancato / jbrancato@ksvc.com / 802.862.8261
Connections Media Buyer
---
1. Nielsen Media Research, 11/3/14
2. Forrester Research
3. Mintel, Marketing to Boomers, 2014