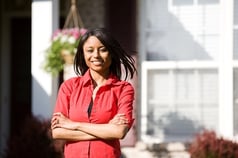 As roughly 25% of the US population, Gen X represents a smart target for you. As its members hit the "middle years" buying power is increasing. Combining that with a heavy emphasis on home ownership and generational values that include "benefit-driven" purchases and sustainability, it becomes clear that energy efficiency programs and solutions are relevant for this audience.
According to the 2014 Home Buyer and Seller Generational Trends Report, Gen X represents 30% of homebuyers and places a high importance on owning a home, thus an opportunity for energy efficiency products and programs:
They tend to buy older homes (44% purchased homes built 30+ years ago and 85% purchased a previously owned home). They're investing in houses that most likely need updating, and may not be energy efficient.
They plan to live in their home for at least 15 years. Fifteen years is long enough to invest in upgrades and long-term maintenance.
67% have at least one child in the house. Programs that provide a safer, warmer and more comfortable home will be appealing.
50% rented an apartment or house prior to purchasing their home, so simplified information that helps engage them on owning a home, and smart D-I-Y maintenance, is an interesting way to communicate with them.
What about financially? Help them not waste money where it doesn't need to be spent. On top of paying a mortgage, they're paying off other debts like student loans, credit cards, car payments and childcare expenses.
49% (the highest of all generations) stated credit card debt as the main delay for home purchase.
50% are making financial sacrifices on non-essential items.
But how do we reach them?
Energy efficiency marketers need to consider that when it comes to media habits, Gen X is stuck in the middle of boomers and millennials. They grew up in households with an appreciation for the integrity of a local newspaper and an addictive like penchant for TV on the daily. And, they are information seekers with a deep interest in emerging digital channels and devices. They research carefully before making a purchase. Like Millennials, they covet fingertip information. They want to consume content in multiple ways.
Generation Xers straddle the new/old media line. While online use is a part of daily life for news, work, product information and entertainment, traditional media outlets remain highly relevant.
Here is a quick snapshot of the stats backing this new/old media blend:
74% still prefer to watch TV on a "TV", but 45% regularly consume TV programming online
62% read newspapers
48% listen to the radio
96% exhibit frequent Internet use
66% mobile Internet penetration
81% have a Facebook account and a median number of friends of 200
15% Tweet
78% streamed or downloaded online video
46% are willing to share email address with marketers
Sources: eMarketer and Forrester Research
Clearly it's a transitional generational segment in the context of media habits. Energy efficiency marketing can leverage this behavior by developing media strategies that map channels to specific moments in the customer journey. What do these media strategies look like?
Broad based media channels with strong reach and frequency like radio, out of home and television are great drivers of awareness messaging. Digital channels like hyper targeted display, online native video placements, paid search and social media are great tactics to intercept a consumer when they are engaging with content related to their homes, investments and household budgets. Gen X does its research and energy efficiency brands need to be at the ready with an "always on" approach that connects interest to information.
In addition to these channels, direct outreach like email and direct mail remain highly productive ways to reach and convert Generation X. These channels benefit from the ability to segment messaging based on audience and moment in the customer journey.
Cavan Chasan Executive Connections Director / cchasan@ksvc.com / 802.862.8261
Lauren Bell Engagement Manager / lbell@ksvc.com / 802.862.8261