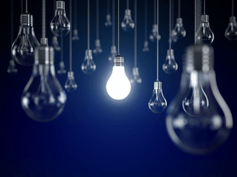 The light over the bathroom sink burns out. You turn to the supply closet to grab a new one, and find your partner used the last bulb, but left the empty packaging.
After days of shaving and applying make up under the one light that's still working... You finally remember to stop on your way home to get a new bulb...
The shopping experience begins. It's beyond overwhelming. You don't know where to start. You didn't check the brand or the wattage (is it even still called that?) of the working light... Does that matter?
What's the outcome?
Most customers end up going with either what they know (maybe an incandescent) or simply the cheapest option.
As marketers in this industry, we must be mindful that energy efficiency is rarely top of mind. In most cases, it's not even on the radar. And sometimes, the frustration ensues before the shopping even begins.
Bulbs are a commodity purchase. Consumers either don't understand or don't trust the product benefits enough to invest in the smartest choice. They want to spend their hard-earned money on the designer lamp for their living room, not the source.
So how can we break through?
We recently met lighting sales goals for a utility clientin just 4 days. (We're still buzzing from the success.) In an effort to maintain this momentum, we're reflecting on what went right.
1.) Our client was able to provide the customer with an irrefutable deal. The value was so great that people could not say no.
2.) In a complex world, we offered simplified messaging that did not add to the overwhelming experience that customers embark on when purchasing a light bulb.
3.) We reached customers with a targeted connections plan that allowed us to engage with people only when and where they could actually participate.
It's our belief that the best consumer education is through purchase and product use. Let these products sell themselves. Once customers know and understand the benefits of these products: savings, better light, increased productivity, convenience, not overheating, and lasting (what feels like) forever... You've got them in your loyalty loop.
And once the customer is there, they'll start making the smart choice without the rebates and incentives. They may even become your advocates.
Lauren Bell / Engagement Manager / lbell@ksvc.com / 802.862.8261