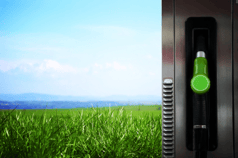 What's your favorite brand of petroleum?
No reply? That's what I thought. Gas is a commodity product. No one cares who they're buying it from.
Think about that for a second.
Do you choose where you fill up based on the brand of gas? Or is it some other combination of factors like location, convenience, a cash-back program, or even crushed ice at the soda fountain and great coffee? I'm willing to bet it's the latter. The products and services that specific stations offer - that's what tips the scale.
Utilities can learn a lot from the gas pump.
Like Mobil or Texaco, you deliver a commodity. The electric and natural gas services you provide are so important. It's the heart of your business: powering people's homes and businesses enabling them to live the life they know. Yet no one cares unless something is broken or overpriced, and these are two things utilities have almost no control over.
It's time to move beyond the commodity - it's time to start acting like the station rather than the pump. It's time to start featuring the products and services (customers might actually appreciate) as a cornerstone of your brand, especially in the face of deregulation.
Energy Efficiency is the key.
But in order for it to work, it's time to move beyond the rebates and incentives. While these are important, the more compelling and long-term relationship builder will be your expertise.
Take your pick: rebate processor or go-to resource for your customer's home maintenance and energy needs? Which is the key to building a relationship with consumers that extends beyond the commodity?
And while EE is a huge component of becoming the consumer's go-to resource, it doesn't end here. It's also about:
Safety: "New baby on the way? Work with us and we'll help make your home safer and more comfortable for the newest member of your family."
Storm Preparedness: "Let's get storm ready - tree limbs looking a little too close to your home or power lines? Give us a call - we'll work with you to help minimize damage this storm season."
New Residents: "New to Town? We want to make it as easy as possible for you to get connected and start enjoying your new home. Here's a welcome kit to the neighborhood to make your new home even more comfortable."
Energy Efficiency programs, services, and expertise that improve the customer experience - that's what will build brand affinity and deliver beyond the expected.
Are you ready to move beyond the pump?
Get in touch with Lauren Bell if you want to discuss, or learn more.
Tucker Wright
Brand Manager
802.862.8261