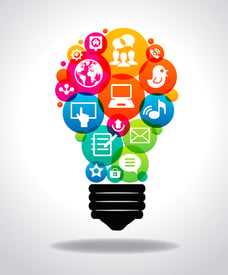 As marketers, we're able to track everything we put out into the ether. So most of the time we tag just that in order to provide clients every impression, click, visit, open, like, follow, share… the list goes on.
Interesting though that what matters most are not campaign results by the click, but overall customer satisfaction scores and annual kWh saved. These are the real measures in which prove you successful, or not.
When it comes to Customer Satisfaction: keep it up, or get with the program.
2014 proved to be a better year for utilities (at least electric) than the last. The average overall customer satisfaction score increased 15 points from 2013, which means the bar is rising. Successful, engaging utilities are making it easier than ever for others to fall behind.
Here's what we know:
Customer satisfaction scores are measured by the examination of six factors:
Power Quality and Reliability
Billing and Payment
Price
Corporate Citizenship
Communications
Customer Service
We're focusing on the last three because the right social media strategy can allow you to generate higher scores in 50% of the areas examined, which can equate to a third of your J.D Power breakdown.
Let these factors serve as your pillars to a successful social media strategy. By creating a balanced conversation around corporate citizenship/community involvement, relevant/personalized communications that drive a safer and more efficient community and dedicated/helpful customer service, you are one step closer to increasing J.D Power Scores.
With customer expectations increasing, it is more important than ever for utilities to address the customer and their barriers to participation and satisfaction. Through a series of customer interviews, we understand that one of the biggest barriers to participation is customer distrust in utilities. This is a direct hurdle for customer satisfaction.
So, how do you overcome this?
Humanize your organization through authentic communications around the three pillars.
We know you're already involved in the community, so share it in a way that resonates. Most of you have Social Media Managers, but are they working directly with Customer Service? Customers don't want to be put on hold. When they're unhappy, they want to make a point. The best place to do so is on your Facebook and/or Twitter page. So, if your customer service team isn't synced to your social team, customer satisfaction is suffering.
Think about your communications. Are you solely discussing ways to save money? Or are you promoting efforts your organization is undertaking to keep rates low, increase reliability, and safety? Discussing the non-financial benefits give you the human edge vs. the pitchy salesman speech
Lauren Bell / lbell@ksvc.com / 802.862.8261