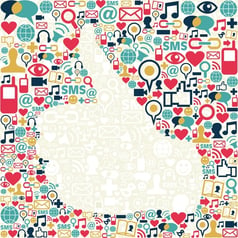 The ongoing conversation surrounding energy efficiency on social media continues to ebb and flow on a daily basis. Featuring a widespread combination of posting angles and discussion types, as well as both positive and negative engagements throughout a variety of channels and audiences, we take a look at how the Industry sector, Small Business, Large Business and Personal social networks are promoting, sharing, engaging with and talking about Energy Efficiency content in social media. First up is Industry.
Industry:
From the industry sector, the tone and sharing practice with regard to Energy Efficiency content in social media is fairly educational, often involving phrases such as, "See how John and Company X did this… "Find out how easy it is to…" or "Learn how much you could save…" as the bait.
The goal of these posts is mainly tied to clicks and buy now exits, with copy based solely upon shaping a link to learn more or to purchase. Social engagement with these posts is normally quite low, as the user has little to relate to in terms of their own experiences—unless they themselves have undergone such a change. Or the alteration may be so fantastic that an audience member shares appreciation of the post with a passive "Like", but little to no deep social connection is made beyond this initial reaction.
What we think: In an ideal world, Industry should encourage greater engagement (aka: customer satisfaction) by supporting a properly balanced social strategy based on the three pillars (see Three Pillars to a Social Media Strategy that Improves J.D Power Scores). We understand that it takes time to create a successful social strategy, calendar and of course, followers. However, it's important to start now. There is too much conversation around "Ways to Save" and not enough about the non-financial benefits which help humanize your organization and your brand.
Provide information on the efforts you're undertaking to keep costs low, encourage customers to share their Energy Efficiency ideas or tap into people's natural competitive spirit by hosting an industry challenge across social channels.