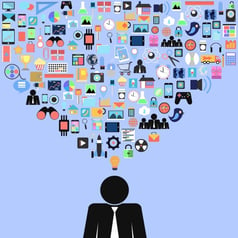 This week, we're focusing on how your business customers promote energy efficiency across their own social channels. Because in order to increase their participation in your programs, we should first understand how/if they're using energy efficiency to increase engagement with their own customers. How is energy efficiency relevant to their business and to their customers? How do they communicate about it? Is it working?
Small Business:
On the small business side, social postings about Energy Efficiency tend to revolve around the business' role in the local or regional community, as well as the environmental impacts of the efficiency programs. If relevant, the messaging may also include references to local job support.
Engagement with these postings tends to be a bit stronger, percentage-wise, than those prompted by the educational tone of the industry sector (but will be less overall, as many of these businesses have far smaller social media footprints to begin with). Positive reinforcement is a base goal for small businesses talking about Energy Efficiency, with general community goodwill and "…this is why I support X!" as their target response.
Our Thinking: Small business has an opportunity to challenge other like businesses to engage in Energy Efficiency measures, perhaps with an efficiency shoot-out (who can save the most kWh in the next quarter?) with friendly competitors and peer businesses in their community.
Large Business:
For large companies and businesses, energy efficiency postings and content on social media tend to revert mainly to self-celebration. "Find out how we're making a difference…" is generally the entry point to these posts, linking off to a blog or news article about how "green" and/or "eco-friendly" the company is being or has become (See: Coca-Cola, Pfizer, Nike, BP, etc.). Little to no emphasis is put on the financial impacts of these changes; the goal appears to be a hope of mentally offsetting their audiences' potential negative feeling towards the company's inefficient production or distribution cycles.
Engagement with these postings is very low by most large company standards. At this level in social media, users, fans and followers are linked to a company to support its products or programs, with a bit of cognitive dissonance sometimes thrown in towards environmental efforts (of course, this depends on the company, its history and mission). The difference here is on Twitter. With Twitter, large companies and businesses that tout their Energy Efficiency initiatives are often met with a solid round of negative feedback, as these postings are more public than on other social media channels and subject to far more scrutiny. To combat this, you'll often see a large business post about Energy Efficiency during social media "off-times", while also quickly binding this output with before and after content not related to efficiency programs, so as to "bury" this content with posts that feature their more appreciated products and services.
Our Thinking: Successful EE content in this realm often revolves around recurring posts and content, as opposed to one-offs. Daily/Weekly Energy Tips, Twitter Hashtags to follow a long-term conversation, and basic question-and-answer tactics to help shape the content quell the negativity, while also helping to open up the conversation a bit more with their target audience. When the focus is tilted away from the company and leaned back onto the user, we see a relatively sizeable shift in the community's response, as well as a rise in engagement numbers overall.
Also see:
Three Pillars to a Social Media Strategy to Boost J.D Power Scores
The Energy Efficiency Conversation in Social Media (Part I – Industry)