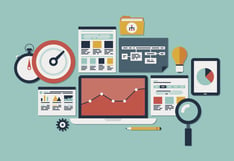 First Party Data.
Is it invasive to use this tactic to create personalized connections with your customers?
Or, does it actually provide value by ensuring the messages customers encounter deliver a benefit from your brand?
Real quick, let's define what we mean by first party data. It is personally identifiable data like email records, physical addresses and purchase history. It is information that is collected by a company in the course of serving its customers.
What does this mean for utilities when they are marketing energy efficiency to their customers?
It means utilities have a HUGE opportunity to acknowledge where the individual customer sits in their EE customer journey.
The journey is a long one when we consider the need to be made aware of the benefits, to be inspired to do research and finally to take action. And action can mean different things for different customers. LED bulbs are an easy entry point while appliance purchases require a greater need and willingness to invest. Utilities support this journey through offerings like rebates and audits, and should be capturing that 1st party data to inform personalized messaging going forward. This personalized messaging will not only push your customer to act, but also push them to participate in the next program, product or offering.
Through recent proprietary research and customer interviews, we know that customers' most frequent response to energy efficiency is: "I just don't know where to begin."
First party data allows you to leverage data intelligence and place relevance in the paths of your customers. It allows you to personally show them not only where to begin, but also where to go next.
It's time for utilities to embrace the fact that they have powerful data at their fingertips and that this data can sharpen their communications approach befitting the most important part of this relationship: the customer.
---
The proprietary research mentioned was conducted on the barriers, benefits and motivations to participating in energy efficiency programs across Residential, Small Business and Large C & I audiences in the Northeast.
Get in touch, and we'll share the full report!