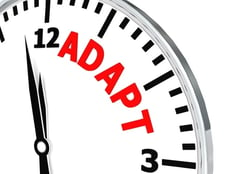 69% of research participants state they find themselves adapting to inefficiencies in their homes and/or businesses rather than seeking solutions. Here's what they said:
"You have to educate someone about inefficient areas so they pay attention to it. They just assume some costs are constant and part of their daily lives. People just get used to it. They think it's outside their realm of control." - CEO, Global Software Company
"It's all about ease and it's become our habit to do the least expensive thing."
- Small Business Owner, Healthcare Professional
"You come into the house and you put a sweater on, and you just kind of leave it at that."
- Homeowner
KSV Customer Insight: People are normalized to everyday inefficiencies in their homes and/or workplace. It is only when these inefficiencies cause a disruption
in expectation that they are noticed.
So, how do you increase participation in programs that customers aren't even aware they need?
Be the disruption in your customer's expectation.
How do you that? We can help!
We recently conducted an in-depth research study on the barriers, benefits and motivations to participating in energy efficiency programs across Residential, Small Business and Large C & I audiences in the Northeast.
Get in touch, and we'll share the full report!
Lauren Bell
802.862.8261