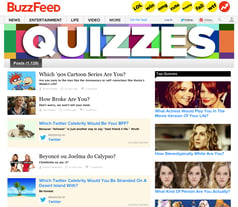 I have an addiction. And that addiction is taking BuzzFeed quizzes. How else will I know what kind of pasta I am, or what city I should live in? Maybe these quizzes feed into our me-centric, "I tweeted what I had for breakfast" culture. Maybe it's the same reason horoscopes are popular. Or maybe they just make me feel like a 13-year old again, taking quizzes in Seventeen magazine.
Apparently, I'm not alone. BuzzFeed's most-shared post in 2013 was a quiz called "Which 'Grease' Pink Lady Are You?" As of this week, that post has 3,960,645 views.
Brands have taken notice. Many have discovered quizzes can be a great data-mining tool, and a new way to engage with fans. Those brands include utility companies, who are using online, interactive quizzes to engage their customers in a topic you might not expect: energy efficiency.
So, why do these quizzes work for brands, including utilities?
They're a relationship-building tool. As BuzzFeed's editorial director

Summer Anne Burton explains

, good quizzes work because "the results feel personal and you can relate to them."
They alter expectations. Customers have a clear set of expectations when it comes to communication from utility companies. These quizzes break out of the white noise. They surprise, and even entertain.
They change the conversation. We've heard the facts about energy efficiency. It's a topic that's usually treated as serious and complex. Quizzes prove the conversation about energy savings doesn't have to be boring.
Utilities are finding ways to change the game. So, what is your audience expecting? And how can you do something different?