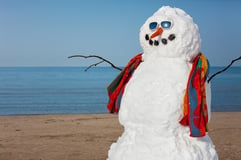 There is a place where snow is uncommon. A place where school is cancelled with only an inkling of troubled roads ahead, where temperatures rarely (if ever) drop below zero and where a "freezing" walk is only seen in a parking lot from the grocery store to the car. What is this place, you may ask, you native New Englander, you cold warrior.
This place is Maryland. This place is my home.
I am a suburbanite. I am not from the cold northern winds and weather. I do not have the tough skin of one who has grown up shoveling sidewalks and scoffing at temperatures below zero. I am not accustomed to wind chills and snow plows. Parking bans are a mystery and driving through white fluffy flakes is a downright impossibility.
The good news is that not everyone in the Northeast is ready to wave the white flag in the face of -32°. There are quite a few brands who are having fun working this weather into new spots and promotions. And here are just a few of them.
Olson Ad Agency took a different approach, choosing to mock a popular cold weather science experiment for their campaign for the Belize Tourism Board. The company posted a 12 second video to Instagram showing what happens when you throw a cup of boiling water in the air on a Belize beach… Doesn't have the same results as if we did it here in Vermont! http://adage.com/article/creativity-pick-of-the-day/travel-belize-boiling-water-trick/291035/
Our neighbors to the north pulled an impressive stunt recently, when the automotive parts retailer and manufacturer Canadian Tire froze their motomaster eliminator battery to -40°c and used it to start a pickup truck made of ice! The ice truck was built from more than 11,000lbs of ice and proved it's chilly ability by driving over one kilometer through the streets! http://www.designboom.com/design/canadian-tire-builds-drivable-ice-truck-01-07-2014/
Beyond the big heart-(and body)-warming stunts, all sorts of companies are taking to social media and boasting warm meals, heated seats, and all sorts of winter related fun.
Whether it's a day at the slopes or curled up in bed with Netflix, everyone is choosing different ways to battle the constantly dropping temperatures. As for me, in my mind, I'm in a warmer place.