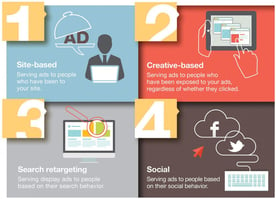 Retargeting works better than any other online display tactic when the primary objective is conversion. Frequency matters, as it always has and retargeting is a highly effective method of achieving the right levels. At the same time, we know online privacy concerns are on the rise.
Energy companies that use retargeting need to be thoughtful about how they present themselves to consumers.
The KSV team has determined the 3 most important guidelines to successful retargeting:
Be useful.
Be of value.
Make it personal.
It's important to construct sequential messaging that is respectful of what people have already seen and what they're interested in. You should absolutely incorporate frequency capping, which allows you to limit how many times a customer sees your message. No one wants your brand experience to be perceived as intrusive. Your customers are your friends. Treat them with respect.
Based on a visitor's behavior, you have an idea of who they are and can speak directly to them. Did they visit your "New Customer" page? Did they spend time looking through Energy Efficiency Solutions? Or perhaps they visited the latest information on your Trade Ally program? Speak to your viewers based on their behaviors.
Our energy clients that have used retargeting have found great success. Though this technique has been around for years, it will only get more and more prevalent in 2014. Being relevant helps both you and your customers.