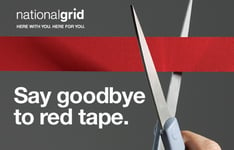 What do you do when your "advocates" aren't actively advocating on your behalf?
The Trade Ally program at National Grid was struggling, with fewer and fewer allies participating. Oh, what's a Trade Ally Program? Here's a quick primer for those who may be less familiar with the utility marketing world:
Utilities are regulated entities that are required to help their customers use less energy and save money through energy efficiency, so they offer a variety of programs and incentives to encourage them to be more efficient. This goes for residential and business customers alike.
With businesses, energy costs can have a particularly large impact on the bottom line, which makes energy efficiency a valuable business tool. And often, the best people to deliver those efficiency solutions are the contractors, architects, and trades people businesses count on every day. Trade Ally programs like National Grid's exist to help those people help their customers get the most out of energy efficiency. But if the Allies aren't on board, advocating on the program's behalf, it can't succeed.
So, back to the challenge. Why weren't they participating?
National Grid and KSV partnered up to find out, launching a comprehensive research project that sought to uncover what was and wasn't working for the Trade Allies. The results were deep and insightful, which led to recommendations for improvements that could be broken down into three basic categories:
Relationship management and communication
Education and awareness
Tools and takeaways
But perhaps the most fascinating takeaway was the response the Allies had to the research itself. Just the act of doing research began to open the Trade Allies up to more participation. They were impressed that National Grid was taking time to listen to them and better understand their needs, and that softening of their beliefs was enough to begin to build the relationship back up.
With these findings, the next step was to launch a pilot program for a select geographic target that addressed, in real and tangible ways, the issues we heard about. We developed creative that spoke directly to the challenges trade allies face, and created a direct communications plan that, while not flashy, utilized their preferred channels and did so with consistency and reliability. All signs are pointing toward a more mutually beneficial, and trusted relationship for the future.
So, how active are the people you consider to be your advocates?