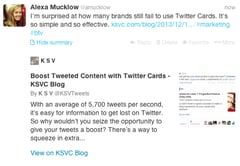 With an average of 5,700 tweets per second, it's easy for information to get lost on Twitter. So why wouldn't you seize the opportunity to give your tweets a boost? There's a way to squeeze in extra information beyond the 140-character limit, and it's as simple as adding a few lines of code to your website.
A Twitter Card is essentially a snapshot of the linked content. Whenever a user tweets your link, the card appears underneath the tweet and gives users a preview of the content, instead of just a URL. Currently, there are eight Twitter Card varieties, each with a unique look and purpose.
Summary Card: This card includes a title, description, thumbnail and Twitter account attribution.
Summary Card with Large Image: Same as the default, but with one added bonus - a prominently featured image.
Player Card: Brings life to the tweet with audio/video capabilities.
Photo Card: As the name suggests, it embeds a photo into the tweet.
Gallery Card: Displays a collection of images within a tweet.
Product Card: This retail card is designed to display a product image, description and other keys details to entice a purchase.
App installs and deep-linking: One quick click allows users to download your app or link to your site via mobile device.
App Card: Gives viewers a glimpse of your apps features and helps drive installs.
Today, a lot of major brands are including Twitter Cards in their content, but there are still plenty of businesses that have totally overlooked this feature. It's baffling: the service has been around for some time, it's easy to implement and it's FREE!
So, does your brand want to create a richer user experience to help drive traffic back to your website? All it takes is embedding an HTML code snippet on your website. Get started with these instructions from Twitter - https://dev.twitter.com/docs/cards