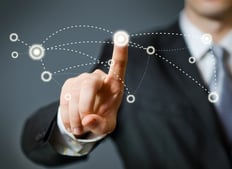 Over the years, we've seen a variety of client challenges walk through the door. From creative needs to media planning, we tackle it all. So when one of our big clients presented the challenge to engage a very small network market of customers and prospects with a very specific set of characteristics, we didn't bat an eye. After all, it's our job to provide innovative, results-driven connections strategies, and we do it exceptionally well.
For us, it's a fun challenge, one we solve by developing 360-degree connections strategies that find the network market in environments and contexts that are highly relevant to their professional responsibilities. We help align brands and their products with the trends and insights that are driving their industries. And we deploy lead generation tactics that scoop up active interest and lead it to points of deeper brand exploration.
We could tell you these strategies are "integrated" or that they "leverage the intelligence of the Internet." They are and they do, but more importantly, they are channel catalysts. They continue the conversation across multiple channels. We consider how digital channels, offline media channels, and the most important channel of all, human beings, each have a significant role in successful marketing. When these channels are set up to work in concert, results are amplified.
The planning process comes down to four steps:
1. Explore the data we have.
2. Convert data to insights.
3. Turn insights into opportunities.
4. Optimize the opportunities.
This approach activates interest and creates brand differentiation in a very competitive industry. Best of all, it creates meaningful engagement between clients and their audiences.