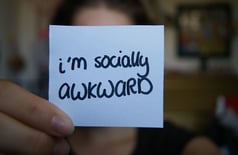 Is your brand's social media driven by marketing materials, products, or promotions? Could the content of your social media conversation be copied and pasted from flash banners? Yes? Then your social strategy isn't enhancing the perception of your brand or fostering interaction, engagement and relationships.
Social media is a party and you aren't the life of it, you're the socially awkward person that no one invited. Your brand isn't engaging with the personalities in the room about your passions and what makes you, you. You're disrupting real conversations and dialogues between friends with a sales pitch.
You're not engaging. You're annoying and unwelcome.
I know what you're thinking, "But they liked us! They're our fans!" A "like" means nothing, especially if you were liked to win something, and "fans" are fleeting. Just because you got in the door doesn't mean anyone is paying attention to you or anything you say.
You're wasting an opportunity. You have permission to be a part of these folks' lives. And if all you're trying to do is just sell them something then you're disappointing them and failing.
Facebook posts promoting sales or products are thinly guised (albeit free) banner ads; tweets touting a new product are the digital equivalent of handing out flyers or cards on the street. If the hard-copy version doesn't engage beyond point-of-sale, what makes us think the social media equivalent will? Social media should be social.
Social media should be a relationship builder. It should market your brand's identity and personality – not your products. Find a voice and an authentic point of view. Be vigilant about protecting that voice and speak to experiences that make you smile or laugh or change your perception. And when you aren't speaking – listen.
Listen to what your community has to say about you, about their lives, about their inspirations and goals. And respond. Interact. Be a part of your community's day. Be a part of real conversation. Be funny. Be thoughtful. Be kind. Be human.
Be anything other than a sales pitch.