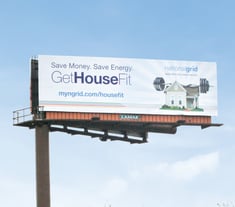 Energy efficiency is a hard idea to wrap your head around. It sounds unattainable, and pricey. So when National Grid asked us to help launch their home audit program in Rhode Island to help customers improve on energy efficiency, we knew we had to go beyond explaining the program's benefits. We had to craft an original, memorable, and ownable way of telling customers what the program is all about.
So we kept the message relatable: being fit is just as important to your home's health as it is to your own. National Grid can help you identify problem areas and solutions to get your home in shape and start saving. The integrated campaign leads with a rallying cry to "Get House Fit," and features a series of everyday houses doing not so everyday things to shape up. The campaign includes video, direct mail, vehicle wraps, landing pages, employee outreach, and more.
Now in its second year, the Get House Fit program sponsored the 5K race as part of the Rhode Island Rhode Races in May, and we had a great turnout.
http://www.youtube.com/watch?v=nyx6eLZypzc
And the best news of all? Houses are getting trim and the program is growing, with a healthy increase of audits in 2013 compared to 2012 (400% higher in the month of May, year over year). Unlike the scale, that's one number we're happy to see go up.