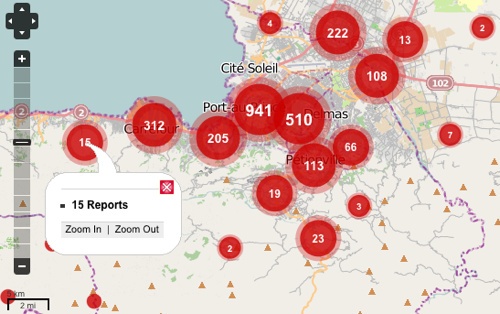 "Imagine a way for people all over the world to tell the story of what was happening to them — or around them — during a disaster or emergency." –Ushahidi-
It's not often that the paths of a cartographer and a marketer cross, but here at KSV, we celebrate unlikely partnerships and cultivate ideas with outside inspiration.
So that's what happened this week, when we learned about crowdmapping from William Morris, a PhD student at the University of Vermont who is also a founder of GeoSprocket.
Cartography has come a long way. We saw this in action when crisis hit during Tropical Storm Irene in Vermont and a central location for information was key.
Within hours of the crisis, the VTIrene Crowdmap was born, allowing those in need to post their location and the damage sustained. First responders were then able to access that information and deploy teams to assist those in need. As Tropical Storm Irene went into restoration mode, the crowdmap continued to be a place where people could share information about shelters, volunteering, fundraisers and more. Teams were also able to gather flood data and monitor Twitter activity during the storm.
It's important to note that crowdsourced maps are not to be used as THE source for all data, but can be moderated as a dispatch center to accelerate action and disseminate essential information. Brands can own such information sources to provide an invaluable service to their customers: sharing important, in some cases life-saving, content in crisis and the every day.
Crowdmap allows users to share and upload information in multiple ways: via web, social media, mobile (smartphone and SMS) and even text-enabled voicemail. All touch points are key to give everyone access. You can test drive your own crowdmap by clicking here.
Crowdmapping owes its existence to the innovative Ushahidi Platform ("ushahidi" means "witness" in Swahili), which was developed to provide communications about post-election violence in Kenya in 2008. The platform kept Kenyans current on vital information and provided invaluable assistance to those providing relief. Since then it has grown into a large open-source project impacting a number of communities around the world. Check out one example of how Ushahidi can be deployed.
Imagine seeing the sentiment about your brand in conversations on Twitter during a crisis? You could mine the data and use it to propel your communications and analyze customer response to your crisis response. Knowledge = proactive power.
The best part of all of this technology – it's free and open-source. We see obvious applications for our utility clients. What do you think and how do you see crowdmapping being used by brands? And who doesn't love a map?
Leave a comment or thought below.