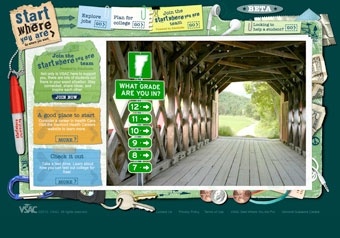 KSV is proud to partner with VSAC in helping Vermont teens decide what's next after graduating from high school, and 2011 was a great year. In partnership, we evolved the teen focused website StartWhereYouAreVT.org to include more robust functionality and content that is both interesting and relevant for grades 7-12.
And the industry noticed. VSAC and KSV received a 2011 Davey Award and a Silver W3 award in the Education category for the Start Where You Are work.
Start Where You Are is a program to watch in 2012 as we continue to launch tools to help all Vermont teens with their next steps. We can't wait to share what's next.