We blogged last summer about Nest Labs, a start-up boasting Apple alums Mike Matas and Tony Fadell. Now Nest Labs has revealed its bid for the smart thermostat market.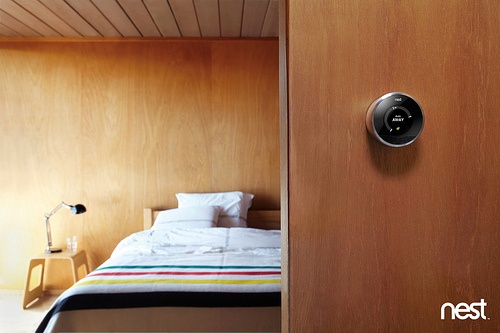 Their device – the Nest – is "the world's first learning thermostat – a thermostat for the iPhone generation," says Fadell. In line with its Apple lineage, the Nest is sleek, stylish and easy to use. It can be controlled from your web browser or iPhone.
Its features are amazing, if just a bit creepy. Motion-tracking sensors can tell whether you're home or not, and room temps are adjusted accordingly. No more heating or cooling an empty house, regardless of whether you forget to hit "pause".
You "teach" Nest good energy habits by turning the heat up when you're cold, and down when you're hot. Or when you're leaving the house, or at night.
Using sophisticated algorithms and processing power, the Nest remembers and learns from all of your temperature adjustments. And here's the beauty of it: over time, you'll adjust it less and less until it runs on its own.
The Nest prompts you to make small adjustments that can save you money. And you can check your history to see which actions saved you the most.
Time will tell whether the Nest's "teachability" will separate it from the likes of Honeywell's Vision Pro and 3M's Filtrete, but for now, it's great to see that Apple touch come to bear on energy management.