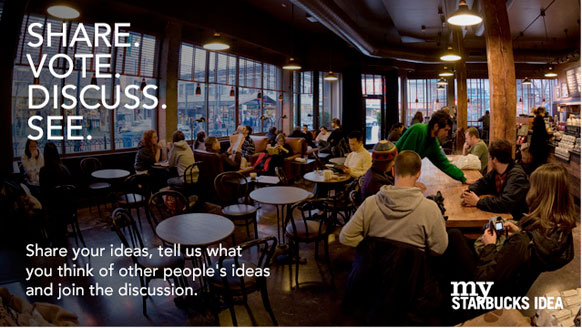 You might know that at KSV we're all about listening. Listening to customers,
listening to the competition, listening to a swinging jazz set, you name it. But mostly,
listening to customers.
Judging from what Starbucks is up to, I'd say we're in good company. They recently launched
a blog called My Starbucks Idea. The premise is simple—give Starbucks customers a way to
weigh in on products, service, technology, you name it.
They're asking for ideas big and small, then letting other customers vote on them. And most
importantly, they're actually listening to the ideas, and when they see a great one gaining
popularity, they move forward in making it a reality.
Listening to customers, learning what they really want, and acting on that knowledge.
Sounds like responsible branding to us.
Check it out at http://mystarbucksidea.com