With the holidays just around the corner, many of us will be heading home to spend time with the ones we love.
So, what does home mean to you? Comfort? Safety? Love?
Now ask yourself, what does it mean to your customers?
Odds are, home is as important to them as it is to you. Home is both a global and unifying concept, and Ørsted is using this human connection to communicate a very important message this holiday season with their Love Your Home campaign.
This Danish power company—previously known as DONG Energy, short for Danish Oil and Natural Gas—recently rebranded themselves and completely divested from fossil fuels, creating a vision and company that is entirely renewable, with hopes to do the same for the planet.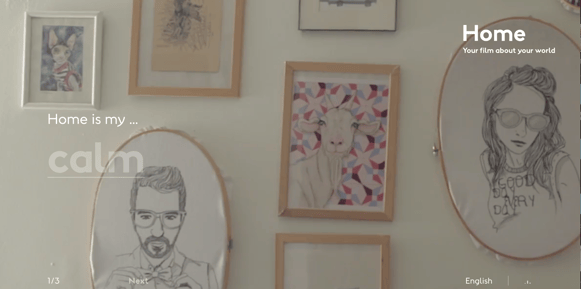 Ørsted's interactive video allows the user to fill in the blanks of what home means to them, and creates a customized video with touching footage, and a voiceover reciting their answers. Pretty powerful. (Don't just trust us, give it a shot.)
Even more powerful is when the footage changes and their values are paired with scenes of flooding, earthquakes, and devastation as a result of climate change.
Ørsted's campaign is asking customers to take their specific connections to "home" and think bigger. To look beyond their own definitions and see their home for what it really is: a planet in distress. This company is using something near and dear to us to remind us that home is bigger than just a house, a town, a country, and we're all in this together.
So, ask yourself again. What does home mean to you? If your customer values home as much as you do, what are you doing to help protect it? And how are you communicating it to them?
Here's what we'd do:
Find a way to connect. Personalize your message, make it easy for your customers to feel the same urgency you do about sustainable energy.

Go big. Create a message that relates to the bigger picture and a bigger vision for the future.

Bring it home—if home is your focus. Otherwise, bring it to work—simply put, bring it to the place that matters most for your customers.
And remember, we're always here to help along the way.