We're headed to BECC this week, with a trio of KSVers speaking on personalization in communications, the voice of the customer, what we've learned from 2 years of EnergyWire, and my talk on Millennials and why Smart Utilities are Engaging them.
(Are you headed to BECC? Get in touch! Can't go? Reach out and we'll send you a sneak preview of our presentations).
And to tee up a great week of thinking and learning, we had one of our very own millennials here at KSV write a special EnergyWire on demand response, and why it is a perfect fit for millennials.
Yeah, that's right, we've got millennials who are so into energy that they write us blogs on demand response.
Meet Lindsey McCabe: She's a millennial. A Sr. Project Manager specializing in Trade Ally, C&I and Small Business Marketing. AND, she's newly fascinated with demand response.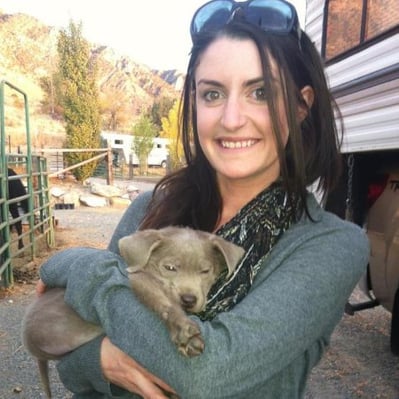 3 Reasons Why Millennials & Demand Response Are a Perfect Fit
When I was 6 I received a soccer trophy; not for winning but for participating. Everyday, I connect with my friends through multiple social platforms­­–Facebook, Pinterest, Instagram, and SnapChat, to name a few. I own a pair of TOMs shoes. I am a millennial.
The commonly shared millennial experiences above are why people like me should be a top target for Demand Response. With millennials accounting for 25% of the population, they are crucial to the success of demand response, and in my opinion a perfect fit. Here are three reasons why:
1. "Don't Stoooop Believin'…."
No, it's not because we love breaking out into song and dance whenever we hear Journey's "Don't Stop Believing", it's because we like brands and companies that believe and stand for a cause. Studies show 85% of millennials base their purchasing decisions and recommendations on how socially responsible a company is; and 86% want to learn more about the environmental issues from the supporting brand. Millennials are in a position where the wellbeing of the world is in our hands. We care about the greater good, the future of the planet and we want to associate ourselves with those brands. The above study also says 73% of millennials would try a new product if it supports a cause. Which brings me to TOMs shoes.
TOMs is a wildly popular company among millennials. It has over 3 million followers on Facebook and a multi-million dollar net worth. The company is known for its simple "one for one" approach, which magically doubles as their tagline. "One for one" in three words tells its philanthropic story that for every product one purchases, TOMs will give one product to a person in need. Buying TOMs makes millennials feel good about their purchases because they have an emotional tie in which they can effortlessly say "I did something for someone".
So what does this mean to you: Demand Response is cause related and could be very desirable among millennials. Demand Response's core values revolve around energy conservation, helping the community and saving the environment. This is a perfect message with which to connect with millennials. Show them you have shared interests, you care and it's easy for them to help. The key is doing this in a credible, relatable, and simple way (which is where KSV can help!).
2. "You haven't replied to my Snapchat? Did you see my text about the Facebook Event, that I also posted about on Instagram and then re-tweeted?"
Let's just say us millennials like to be connected. Overkill with all the platforms? Maybe, but we all need to get over it–this is the reality. The smart customer-centric brands understand the importance of the millennials' social desire and are adopting techniques to relate and engage with millennials.
Let's talk Uber. With a tap of your phone, transportation is ordered. The app displays a proximity map to you and the car, a picture of your driver and driver ratings. During the ride you can send friends links of your route for real-time planning.
When the ride is over you can hop out worry-free. There is no tipping and payment is covered electronically with options to share payment with riders. Passengers then rate drivers encouraging excellent customer services. But Uber doesn't stop there. Hosting themed rides like Uberkitten, riders can opt-in to cruise around with a kitten until their destination has been reached.
I mean KITTENS! Who doesn't like kittens!? And get this, you can even adopt them if you want (Ahem–remember bullet 1, millennials loving cause-related brands). And this is only a small picture of the whole Uber experience.
The point is Uber took an unexciting, less than desirable task of hailing and traveling in a cab to a unique customer-centric technology driven, convenient and enjoyable experience.
Got it. Millennials like kittens, what about me again? Demand Response has the ability to communicate with users in real-time, too. I mean that's the basis of the program right? Let's take advantage of this! This is a perfect opportunity to send notifications and communicate with millennials in ways they like to communicate. So before going any further you should know 85% of homeowners want visual information, an in-depth dashboard of their energy consumption. 52% state that they would change their behavior from the ability to better understand and visualize the way they are powering their homes.
Wait what? Homeowners are already asking for this? They are! So let's do it! Let's adapt to how millennials are communicating, what they are seeing and how often they are using. Where can we further engage? The wearable fitness technology, Fit Bit, will congratulate users when they've hit a certain amount of steps. Can we do this for good energy conservation?
3. "I know you're lying because there is this thing called Google"
It's a crazy thing, this word wide web. Gagillions of information ready and waiting for us when we need it, and millennials know how to navigate through it more than anyone. Companies and brands that are all talk will get busted through countless of online reviews and social media shares. So if you want to be a success you need to be real. You need to be transparent.
Dominos is an example of a company that embodies this. Dominoes completely overhauled their brand by winning back the respect and trust of their customers. Known for the lackluster cheap pizza, Dominoes listened to their poor reviews and did something about it. They took a chance and recreated completely new recipes with customer taste tests to unveil a new menu. They then promoted their new menu with photos of real pizzas from actual customers sharing pictures of their pies via personal social media channels. Sales at Domino's stores open at least a year rose 14.3 percent in the first quarter, 8.8 percent in the second quarter and 11.7 percent in the third quarter.
Isn't it amazing what just a little bit of transparency can do?
Yep, time to talk about you again: Demand Response is already transparent. Demand Response shows users exactly what they are doing. So how can we leverage this to get people to care, what else can we do? We need to get the companies involved to support this program to get millennials' full trust. The first step in any relationship is trust, so let's gain that.
Alright, that was a lot! Let's recap:
1) Millennials love cause-related brands.
2) Millennials are tech savvy, connected and familiar with real-time notifications and automated systems.
3) Millennials seek credible brands that exude transparency.
Based on the above it's clear that Millennials and demand response are a compatible match. It's also clear a lot of improvements could be made to make this connection even stronger. Let's take what we just learned and paint a more vivid image in millennials minds of how Demand Response supports a cause near and dear to our hearts, the environment.
Let's make Demand Response work even harder for us by creating a customer-centric platform that millennials enjoy and are custom to using. Let's also see where else we can further insert ourselves. Let's make this millennial/demand response match legit.
Millennials are ready and so is KSV. I'll ask again, are you?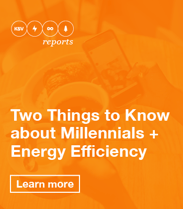 Download the brief now.